Noatum increases MHC fleet for three Spanish terminals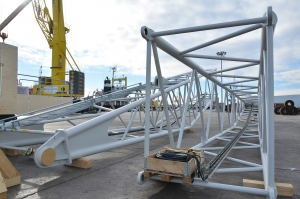 (Posted on 08/01/22)
After obtaining the approval of the respective boards of directors and its partner Algeposa, Noatum, through its subsidiary Noatum Terminals, which specialises in the management of port concessions and infrastructures, has completed the acquisition of four automotive cranes for its port terminals in Castellon, Sagunto and Tarragona. Noatum is a leading multinational group in transport services, integrated logistics and port operations.
This equipment, capable of handling all types of cargo, is equipped with the latest technology and will bring major operational advantages to the ports concerned. They also introduce improvements that minimise the environmental impact and reduce energy consumption.
As port operators in these three key ports in the Mediterranean the responsibility of Noatum Terminals and of Algeposa, reinforces the commitment of both stakeholders to the continuous improvement of all the services they offer, as well as to the generation of increasingly efficient value propositions for all the industries in their port hinterlands.
Two of these cranes will be destined for Noatum Terminal Sagunto. These are two units of the LHM420 Pactronic model, and have a maximum lifting capacity of 124 tonnes, which will enable an improvement in productivity of up to 38 containers per hour. This model is also capable of handling bulk goods and all types of general merchandise and project cargo.
A third model LHM420 crane will be destined for Noatum Terminal Tarragona, a facility specialising in port operations for agri-foodstuffs bulk cargo, one of the main areas of trade at the Tarragona facility. The crane will be located on the Castilla quay to improve the productivity of the automated installation that the company manages there.
The fourth crane will be operated at Noatum Terminal Castellon, a multipurpose terminal that offers comprehensive services for containerised cargo, other unitised and project cargo, and solid and liquid bulk. The crane has been acquired to optimise operational flows and the ongoing increase in the volumes transited by Noatum's concessions on the Dársena Norte docks. The new model LHM550 unit has a lifting capacity of 144 tonnes and an outreach of 54 metres; it is optimised for bulk handling on Capesize class vessels, in addition to container handling and New-Panamax class vessels.
The first crane arrived in port on 5 January on board the vessel Mv Hoogvliet, and will soon be operational at the Sagunto terminal. The other three units will arrive in the coming months.
The increase in the capacity of the terminals benefiting from this important investment and commitment is the result of Noatum and Algeposa's commitment to offering their customer base state-of-the-art equipment, and thereby improving operational performance and achieving increased energy efficiency.
This investment in equipment for the terminals represents an increase in their current operational capacity, as they already have four mobile cranes and six electric cranes at Sagunto, four mobile cranes and two container cranes at Castellon, and two mobile cranes at Tarragona.
Latest News
(Posted on 27/09/23)
EMS-Tech Inc., a global leader in engineering and innovation within the dry bulk material handling industry... Read more
(Posted on 26/09/23)
MacGregor, part of Cargotec, has received a significant, more than EUR 25 million order for general... Read more
(Posted on 26/09/23)
HEMEXPO, Hellenic Marine Equipment Manufacturers and Exporters, a leading suppliers and exporters association... Read more
(Posted on 19/09/23)
ClassNK has conducted third-party certification for the CO2 emissions reductions of "JGreeX&trade... Read more
(Posted on 12/09/23)
Charterers can save hundreds of thousands of dollars of unnecessary demurrage costs by drilling down... Read more
(Posted on 08/09/23)
Nippon Kaiji Kyokai (ClassNK) has joined the major classification societies to amend its rules relating... Read more
(Posted on 08/09/23)
On behalf of SLPLUS Holding and based on their trust in Feyz Group's operational capabilities,... Read more
(Posted on 08/09/23)
Leading corporate wellbeing provider OneCare Solutions (OCS) has launched the OneCare Solutions Mobile... Read more
(Posted on 04/09/23)
With CCS-Ready scrubbers now being sold at pace, Wärtsilä's studies across a range of... Read more
(Posted on 04/09/23)
German Ship Repair Jamaica Limited (GSRJ), a private joint venture of German, Turkish and Jamaican investors... Read more