NIBC and Damen extend lease partnership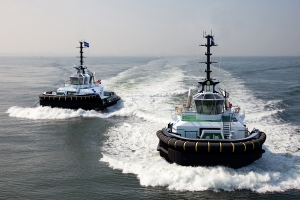 (Posted on 22/03/21)
NIBC Bank, Damen Ship Lease and Damen Financial Services have digitally shaken hands for a multi-year partnership in the field of ship leasing.
The financing from NIBC will be used to enable financial or operational lease solutions for customers of Damen Shipyards Group. This concerns state-of-the-art workships in offshore (wind) energy and (hybrid) tugs for, among other things, port activities. These leases are offered by one of the funds of the Damen Ship Lease Cooperative which is managed by Damen Financial Services.
"We are very pleased with the collaboration and this new long-term commitment from NIBC," says Jan Willem van Helden, managing director of Damen Financial Services. "With this fund we can facilitate the fleet renewal and sustainability of the fleet of various customers, while we also stimulate the growth of the Damen group," adds Martin van Eyk, manager of Damen Ship Lease. "With the latest Damen ships and technology, we also contribute to the efficient management of our customers and a reduction in the ecological footprint of our sector."
Jeroen Conijn, Managing Director NIBC: "We are proud of this collaboration with Damen. Almost ten years ago we provided the first financing to Damen Ship Lease. During these years, Damen Ship Lease has shown that it fulfills a clear need of its customers with its lease solutions. We support the further growth of this activity by continuing our financing."
The leasing solutions offered by Damen tie in well with trends in the maritime sector such as servitisation ("Ship-as-a-Service") and circularity.
Damen Shipyards Group has been in operation for over ninety years and offers maritime solutions worldwide, through design, shipbuilding, ship repair and related services. Damen operates 36 shipyards in 18 countries and offers direct employment to more than 13,000 people.
Latest News
(Posted on 26/11/23)
VIKING Life-Saving Equipment, a global leader in maritime safety solutions, is launching an innovative... Read more
(Posted on 26/11/23)
Damen's client Gerdes Green has received a subsidy from the German Government for the investment... Read more
(Posted on 17/11/23)
A first of its kind training course for the Middle East has been held to teach mariners about the basic... Read more
(Posted on 13/11/23)
Wärtsilä ANCS, part of technology group Wärtsilä, has delivered to Seaspan, a marine... Read more
(Posted on 31/10/23)
The flag raising ceremony for three new ASD Tugs has taken place in Gdansk, Poland. In the presence... Read more
(Posted on 26/10/23)
A new immersive crane simulator that can recreate high-risk scenarios without putting drivers or other... Read more
(Posted on 23/10/23)
Vesto Ropes, a global leader in innovative steel wire-rope solutions, has announced a strategic partnership... Read more
(Posted on 23/10/23)
Bedeschi S.p.a. has been awarded a contract for the design and supply of a new longitudinal storage... Read more
(Posted on 18/10/23)
Rhenus Maritime Services (RMS) is adding a new coastal vessel to its fleet in the shape of the RMS Ruhrort... Read more
(Posted on 18/10/23)
Dualog, a leading maritime software provider, has introduced a major enhancement to the Dualog Drive... Read more