NGFA testifies on rail service failures experienced by grain shippers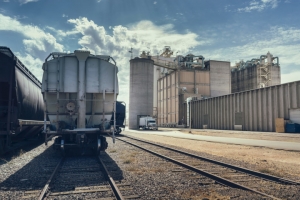 (Posted on 27/04/22)
The National Grain and Feed Association (NGFA) in the USA has testified before the Surface Transportation Board (STB), listing several examples of rail service failures experienced by grain shippers across the country and outlining recommended actions for the STB.
"NGFA's preference is to seek commercial solutions between individual rail customers and their rail carriers," said NGFA President and CEO Mike Seyfert during his oral testimony at STB headquarters. "However, the recent rail service challenges impacting entire regions of the country have led us to the Board to seek help."
STB Chairman Martin Oberman called for the "Urgent Issues in Freight Rail Service" hearing and directed several Class I carriers to testify on April 26-27. NGFA urged the Board to address inadequate rail service in a March 24 letter to Chairman Oberman and led another letter signed by members of the Agricultural Transportation Working Group on April 21 outlining several proposals to improve rail service.
In testimony, Seyfert listed several instances of rail service failures and their consequences, including excessive dwell time at origin and delayed train delivery at grain export destinations.
"Many NGFA members have a daily risk of slowing or shutting down operations due to reduced and inconsistent rail service," he said. "Some individual NGFA member companies report losses and increased costs in the tens of millions of dollars and lost or reduced operating days totaling weeks."
NGFA estimates the combined costs to the grain industry due to lost revenues and additional freight expenses in the first quarter of 2022 to be over $100 million. "Depending on the market position of the grain industry participant, these extra transportation costs are either borne by the participant, reflected in the grain basis paid to the farmer, or passed onto the consumer," Seyfert noted.
One of NGFA's recommendations for STB is to implement financial incentives for railroads to perform more efficiently using the same concepts they use to incentivize their customers.
While NGFA member companies understand the pandemic caused labor shortages for employers in many industries, the Class I railroads' inadequate crews are having an undue impact on grain shippers and receivers, NGFA noted. For example: "When NGFA members cannot load a train because a crew is out with COVID, they will be charged demurrage by the rail line and if they cannot unload a train due to COVID, they will pay demurrage and face the risk of penalties or loss of contracts with their own customer," Seyfert said. "However, if the railroad cannot deliver or move a train due to COVID – or any other reason – NGFA members cannot charge and are not entitled to any demurrage from the railroad."
Latest News
(Posted on 23/01/23)
BHP Xplor, an accelerator programme introduced by BHP in August 2022, has announced its first cohort... Read more
(Posted on 16/01/23)
Trafigura Group Ptd Ltd., a market leader in the global commodities industry, has made a public carbon... Read more
(Posted on 10/01/23)
Jace Hefner has joined the U.S. Grains Council (USGC) in its Washington, D.C., headquarters as the new... Read more
(Posted on 10/01/23)
Cargill has announced that Jamie Miller will step down as Chief Financial Officer to accept an opportunity... Read more
(Posted on 10/01/23)
Adbri Limited has announced that it has extended its cementitious materials supply arrangement with... Read more
(Posted on 04/01/23)
Khalifa Economic Zones Abu Dhabi – KEZAD Group, the integrated trade, logistics, and industrial... Read more
(Posted on 23/12/22)
Australian agribusiness GrainCorp is co-leading a $12 million investment round into rural connectivity... Read more
(Posted on 20/12/22)
BHP has provided an update to its announcement on 18 November 2022 that confirmed BHP had entered into... Read more
(Posted on 20/12/22)
Rio Tinto has appointed Kaisa Hietala as a non-executive director. Ms Hietala, a Finnish citizen, will... Read more
(Posted on 13/12/22)
Trafigura Group Pte Ltd, a market leader in the global commodities industry, has released its results... Read more