New skirting system controls conveyor dust emissions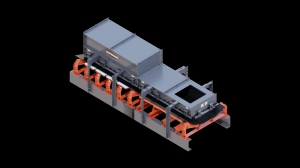 (Posted on 23/12/22)
Superior Industries, Inc., a US-based manufacturer and global supplier of bulk material processing and handling systems, recently completed development of a brand new Modular Skirting System. The easy to install accessory controls dust and prevents spillage within conveyor load and transfer zones.
"Our crews visit and collect data from thousands of conveyor systems each year and we figure about half of them would benefit from material containment components," says Paul D. Schmidgall, chief engineer in Superior's conveyor components division. "That's one out of every two conveyors spilling valuable material, spewing harmful dust, and creating unsafe work environments."
The new Skirting System retrofits to any brand of existing structure with little or no field fabrication. Two sets of adjustable legs aid in this universal installation. Additionally, easy to adjust clamping mechanisms are used in place of nuts and bolts to hold skirtboard rubber tight against the belt. An optional stilling zone is available to accelerate the settling of dust while material is moving inside the system.
Superior's Modular Skirting System is sold in 5-foot (1.5m) sections for conveyor belt widths up to 72-inches (1,728mm). Along with 250-tons of other products, this new Skirting System will be shown in Silver Lot CONEXPO-CON/AGG 2023.
From Rock Face to Load Out, Superior Industries engineers and manufactures groundbreaking bulk material processing and handling equipment plus cutting-edge components. The 50-year-old manufacturer supplies bulk crushing, screening, washing and conveying systems plus all related parts and services for industries like aggregates and mining. In addition to manufacturing from its hometown in Morris, Minnesota, USA, Superior operates three additional U.S. facilities, plus international factories in Brazil and China.
Latest News
(Posted on 26/11/23)
VIKING Life-Saving Equipment, a global leader in maritime safety solutions, is launching an innovative... Read more
(Posted on 26/11/23)
Damen's client Gerdes Green has received a subsidy from the German Government for the investment... Read more
(Posted on 17/11/23)
A first of its kind training course for the Middle East has been held to teach mariners about the basic... Read more
(Posted on 13/11/23)
Wärtsilä ANCS, part of technology group Wärtsilä, has delivered to Seaspan, a marine... Read more
(Posted on 31/10/23)
The flag raising ceremony for three new ASD Tugs has taken place in Gdansk, Poland. In the presence... Read more
(Posted on 26/10/23)
A new immersive crane simulator that can recreate high-risk scenarios without putting drivers or other... Read more
(Posted on 23/10/23)
Vesto Ropes, a global leader in innovative steel wire-rope solutions, has announced a strategic partnership... Read more
(Posted on 23/10/23)
Bedeschi S.p.a. has been awarded a contract for the design and supply of a new longitudinal storage... Read more
(Posted on 18/10/23)
Rhenus Maritime Services (RMS) is adding a new coastal vessel to its fleet in the shape of the RMS Ruhrort... Read more
(Posted on 18/10/23)
Dualog, a leading maritime software provider, has introduced a major enhancement to the Dualog Drive... Read more