New Polish cement contract for Bedeschi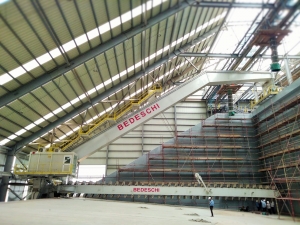 (Posted on 13/04/21)
Bedeschi has been awarded a new contract by Nanjing Kisen International Engineering, part of CNBM Group, for a Lafarge Holcim cement plant in Poland.
The new order will include the refurbishment of an existing storage with the installation of two new semi portal reclaimers Pal SP 130/18 for limestone at a capacity of 340 t/h each and a new crushing system featuring two RI 450/1500 double roller crushers to reduce gypsum, correctives and other cement additives.
This order follows the project just completed in Indonesia with Nanjing Kisen for Grobogan Cement (Indonesia) for a complete clay storage and crushing system.
Bedeschi SpA was established in 1908 and is today one of the oldest European companies specialising in bulk handling. The fourth generation of the Bedeschi family is currently leading the Group
For many years Bedeschi has been entrusted by many prestigious clients worldwide to help them overcome various marine infrastructural bottlenecks, both onshore and offshore. These clients have valued the innovativeness and capability of Bedeschi, to understand their exact requirements and to design & implement solutions, which are suited specifically to their projects' requirements.
Latest News
(Posted on 07/12/23)
In an initiative set to be transformational for ship design while protecting the oceans from pollution... Read more
(Posted on 03/12/23)
Ship design, particularly the design of bulk carriers, presents particular challenges when it comes... Read more
(Posted on 26/11/23)
VIKING Life-Saving Equipment, a global leader in maritime safety solutions, is launching an innovative... Read more
(Posted on 26/11/23)
Damen's client Gerdes Green has received a subsidy from the German Government for the investment... Read more
(Posted on 17/11/23)
A first of its kind training course for the Middle East has been held to teach mariners about the basic... Read more
(Posted on 13/11/23)
Wärtsilä ANCS, part of technology group Wärtsilä, has delivered to Seaspan, a marine... Read more
(Posted on 31/10/23)
The flag raising ceremony for three new ASD Tugs has taken place in Gdansk, Poland. In the presence... Read more
(Posted on 26/10/23)
A new immersive crane simulator that can recreate high-risk scenarios without putting drivers or other... Read more
(Posted on 23/10/23)
Vesto Ropes, a global leader in innovative steel wire-rope solutions, has announced a strategic partnership... Read more
(Posted on 23/10/23)
Bedeschi S.p.a. has been awarded a contract for the design and supply of a new longitudinal storage... Read more