New Liebherr LHM 420 for Shannon Foynes Port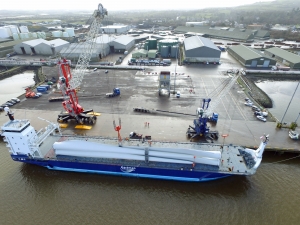 (Posted on 31/05/18)
Shannon Foynes Port Company (SFPC) has recently taken delivery of a new Liebherr Mobile Harbour Crane LHM 420, which was delivered fully assembled by sea from Liebherr's factory in Rostock.
Shannon Foynes Port Company opted for a new Liebherr mobile harbour crane type LHM 420. The addition of this new state-of-the-art crane will help maximise the potential of the deep water port at Foynes and contribute to the creation of up to 3,000 jobs along the Shannon Estuary. The crane was procured by Shannon Foynes Port Company through a competitive tendering process. The tender documentation paid particular attention to the machine's quality and technical innovations along with ongoing aftersales support.
The new LHM 420 was delivered fully assembled to the Port of Foynes by the MV Papenburg heavy load carrier. Loading took place at the Liebherr production facility in Rostock, Germany and the sailing time to Foynes was six days. On arrival in Foynes, the crane was simply driven off the vessel by Liebherr engineers and was ready for work the same day. Traditionally, cranes would have had to be delivered in component form with a lengthy onsite assembly and testing programme. This would have necessitated a large area being made available for the entire assembly process, which in turn would have hampered port activities. But with direct sea access to the factory in Rostock, Liebherr can now deliver cranes fully assembled to destinations all over the world to save customers time and inconvenience.
The new crane will primarily be used in the handling of bulk products at the port. The LHM 420 benefits from an industry-leading grab curve of 75 tonnes. This allows larger grabs to be installed, which results in increased turnover per cycle and ultimately reduced fuel consumption. To prevent dusty cargos from entering the machinery room, the crane is also fitted with a positive air pressure system that pressurises the machinery room with clean air. In addition to bulk products, the new crane will also be handling project cargo, in particular wind turbines. Thanks to the precise handling and control offered by the Liebherr hydrostatic drive system, the LHM 420 is the ideal machine for the handling of delicate cargos like wind turbine blades. With a maximum lifting capacity of 124 tonnes, the LHM 420 will also give the port a heavy lifting capability.
Due to the port's close proximity to the town of Foynes, the new crane had to be near silent in operation. Additional sound proofing was installed to reduce noise emissions to ensure that the crane could not be heard by nearby residents and business owners.
Shannon Foynes Port Company CEO Pat Keating said: "We need efficient jetties but we also need efficient plant and machinery and this crane gives us all of that and more. This piece of equipment is future proofing the port. It's something we need for the here and now but it's also planning ahead. The greater lift capacity and reach it provides us with enables us to bring in new business. That means more ships, bigger ships and processing them with faster turnaround times. So it's an investment in our customers. And with the LHM 420's very low emissions and lower noise levels, its environmental footprint is minimised."
John Carlton, Engineering & Port Services Manager for Shannon Foynes Port Company, explained that the crane has been in the planning for a number of years and added: "The LHM 420 mobile harbour crane from Liebherr is the biggest crane we have ever had in the port. Its lifting capacity is just over double our existing capacity at 124 tonnes per single lift. It also has a grab curve of 75 tonnes, which is 45 per cent larger than what we currently have. Everything about this crane is bigger, better, faster, stronger: it's a very significant piece of equipment for the port."
Robert Alexander, Sales Manager at Liebherr-Great Britain and Ireland, said: "Liebherr is proud to be working with Shannon Foynes Port Company and we would like to thank the Port for its professionalism throughout the entire tender process. We wish SFPC every success as it expands its operations and look forward to working with the company in the future."
Latest News
(Posted on 28/03/23)
DNV has enhanced its Alternative Fuels Insight (AFI) data platform as part of an effort to accelerate... Read more
(Posted on 24/03/23)
Bruks Siwertell has secured an order for a next-generation Siwertell road-mobile ship unloader, which... Read more
(Posted on 20/03/23)
Thordon Bearings is supplying its grease-free, self-lubricating ThorPlas-Blue bearing material to a... Read more
(Posted on 20/03/23)
French water treatment specialist BIO-UV Group has appointed Laurent-Emmanuel Migeon as its new Chairman... Read more
(Posted on 07/03/23)
With Wärtsilä's CII Dashboard, Anglo-Eastern is now able to make better informed decisions... Read more
(Posted on 07/03/23)
Bruks Siwertell has completed the commissioning of two large-scale Siwertell ST 790-D-type ship unloaders... Read more
(Posted on 28/02/23)
A consortium including technology group Wärtsilä has secured European Union funding to develop... Read more
(Posted on 28/02/23)
Bruks Siwertell has received an order for a next-generation Siwertell road-mobile ship unloader from... Read more
(Posted on 24/02/23)
Global Survival Technology solutions provider Survitec has introduced a new, formalised pre-inspection... Read more
(Posted on 24/02/23)
The slightest deviation in the machining, polishing, and finishing of ships' propeller blades... Read more