New Argentine frac sand plant selects Superior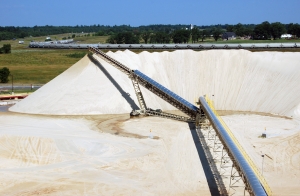 (Posted on 12/10/20)
Superior Industries, Inc., a global manufacturer and supplier of bulk material processing and handling systems, has been selected as the material handling supplier for NRG Argentina's (NRG) new frac sand plant in Río Negro, Argentina. Industrial Accessories Company (IAC), NRG's EPC contractor for the project, has a long history of successfully partnering with Superior Industries on several frac sand projects.
"During North America's fracking boom in the 2010s, Superior quickly became the preferred manufacturer of conveyors for unloading, transferring and stockpiling frac sand," says Roland Duer, the conveyor manufacturer's manager of business development throughout Latin America. "Those customers appreciate high-quality products, dedicated aftermarket support and our uniquely integrated manufacturing, which uses our very own idlers, pulleys and accessories in addition to the conveyor structure we design and build."
At the writing of this release, more than 750-meters of conveyors were en route to NRG's new frac sand plant. Highlights include a 56-meter TeleStacker Conveyor. These automated radial telescopic stacking conveyors are capable of building extreme volume stockpiles in excess of 302,000 metric tons. Additionally, NRG will utilize a pair of portable RazerTail Truck Unloaders to transfer frac sand from trucks. Other conveyors will be installed throughout the dry plant creating a quiet, environmentally-friendly material handling operation.
"Having Superior as a supplier is a clear example of the importance for NRG to incorporate good technologies and best practices that take care of the environment and, at the same time, offer solutions to the customers," said César Güercio, CEO of NRG Argentina S.A.
Superior says it is proud its conveying equipment will be an active participant in Argentina's effort to achieve energy independence.
From Rock Face to Load Out, Superior Industries engineers and manufactures ground-breaking bulk material processing and handling equipment and cutting-edge components. From its headquarters in Morris, Minnesota, USA, the manufacturer supplies bulk crushing, screening, washing and conveying systems plus all related parts and services for industries like aggregates and mining. In addition to its home plant, Superior operates from three additional U.S. facilities, plus international factories in Canada, Brazil and China.
Latest News
(Posted on 03/12/23)
Rio Tinto and Giampaolo Group have completed a transaction to form the Matalco joint venture, combining... Read more
(Posted on 03/12/23)
Khalifa Economic Zones Abu Dhabi – KEZAD Group, the largest operator of integrated and purpose... Read more
(Posted on 26/11/23)
ADM, a leader in sustainable agriculture supply chains, has announced an important expansion of its... Read more
(Posted on 17/11/23)
Trafigura, a market leader in the global commodities industry, has agreed to invest in an all-in-one... Read more
(Posted on 17/11/23)
ADM and Marathon Petroleum Corp. have celebrated the opening of their joint venture soybean processing... Read more
(Posted on 13/11/23)
Former U.S. Grains Council (USGC) Director of Global Programmes Alejandra Castillo was named the successor... Read more
(Posted on 13/11/23)
Rio Tinto has completed the acquisition of PanAmerican Silver's stake in Agua de la Falda and... Read more
(Posted on 05/11/23)
Cargill has completed an expansion and modernization project at its integrated soybean crush and refined... Read more
(Posted on 31/10/23)
BHP has approved an investment of US$4.9 billion (C$6.4 billion) for stage two of the Jansen potash... Read more
(Posted on 31/10/23)
Rio Tinto and cable solution provider Prysmian are partnering to build a more sustainable North American... Read more