Methanol testing to begin at Alfa Laval Centre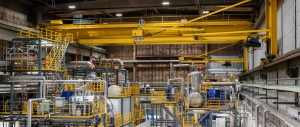 (Posted on 11/03/21)
Major tests of methanol as a marine fuel will soon begin at the Alfa Laval Test & Training Centre in Aalborg, Denmark. Working closely with MAN Energy Solutions and other partners, Alfa Laval will explore the possibility of running the centre's four-stroke, 2 MW diesel engine on methanol – without modifications or another pilot fuel. The testing is the third stage in an ongoing research project funded by Danish EUDP (Energy Technology Development and Demonstration Program).
Initiated two years ago, the EUDP-funded methanol project partners Alfa Laval and MAN Energy Solutions with the Danish Technological Institute (DTI), Technical University of Denmark (DTU) and biofuel producer Nordic Green. Through joint research, the consortium seeks to develop a methanol fuel system that can adapt to today's marine diesel engines. Methanol, which is abundant and clean-burning, is one of the most promising fossil-free fuels available for future shipping.
"At present, combusting methanol requires a pilot ignition with fuel oil," explains Lars Skytte Jørgensen, Vice President Technology Development, Alfa Laval Marine Division. "This necessitates two fuel lines and different types of fuel tanks on board. If methanol from renewable sources could be burned directly in standard compression engines, it would offer a shortcut to carbon-neutral shipping."
"The move to clean-burning methanol will be a crucial step in decarbonizing the shipping industry," agrees Klaus Petersen, Engine Specialist, Performance & Optimization at MAN Energy Solutions. "Through our collaboration with Alfa Laval and the other project partners, we hope to make that step significantly easier for vessels to take."
Burning methanol in an unmodified diesel engine will require new engine software, which must be developed through engine testing and work with combustion modelling.
Early tests of the concept on smaller engines at the Technical University of Denmark (DTU) and later at the Danish Technological Institute (DTI) showed promising results. This led to a small-scale experiment with methanol at the Alfa Laval Test & Training Centre, using a single cylinder of the centre's 2 MW marine engine.
"We were excited at just how well the one-cylinder experiment ran," says Jørgensen. "And now we are ready to proceed with wider testing."
Alfa Laval is well prepared to move ahead, having already equipped the Alfa Laval Test & Training Centre with tanks and ancillary equipment for working with biofuels. The tanks have been readied for an exceptional delivery from Nordic Green, who supplied the green methanol in March.
"We produce our methanol from waste sources instead of new biomass," says Bo Gleerup, CEO at Nordic Green. "This means the coming combustion tests will be neutral in CO2 impact – exactly as the operation of tomorrow's vessels needs to be."
Latest News
(Posted on 26/11/23)
VIKING Life-Saving Equipment, a global leader in maritime safety solutions, is launching an innovative... Read more
(Posted on 26/11/23)
Damen's client Gerdes Green has received a subsidy from the German Government for the investment... Read more
(Posted on 17/11/23)
A first of its kind training course for the Middle East has been held to teach mariners about the basic... Read more
(Posted on 13/11/23)
Wärtsilä ANCS, part of technology group Wärtsilä, has delivered to Seaspan, a marine... Read more
(Posted on 31/10/23)
The flag raising ceremony for three new ASD Tugs has taken place in Gdansk, Poland. In the presence... Read more
(Posted on 26/10/23)
A new immersive crane simulator that can recreate high-risk scenarios without putting drivers or other... Read more
(Posted on 23/10/23)
Vesto Ropes, a global leader in innovative steel wire-rope solutions, has announced a strategic partnership... Read more
(Posted on 23/10/23)
Bedeschi S.p.a. has been awarded a contract for the design and supply of a new longitudinal storage... Read more
(Posted on 18/10/23)
Rhenus Maritime Services (RMS) is adding a new coastal vessel to its fleet in the shape of the RMS Ruhrort... Read more
(Posted on 18/10/23)
Dualog, a leading maritime software provider, has introduced a major enhancement to the Dualog Drive... Read more