Mantsinen strengthens presence in France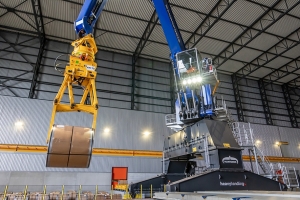 (Posted on 01/02/21)
Mantsinen Group Ltd Oy and its Belgian distributor Heavy Handling bv have agreed to deepen their co-operation by appointing Heavy Handling as distributor also for France for the whole range of Mantsinen material handlers, attachments and services.
Mantsinen Group and Heavy Handling started the co-operation in 2012. The number of Mantsinen machines in Belgium and the Netherlands has grown ever since, to the extent that the fleet is larger than in any other market outside of the traditional Mantsinen home markets Finland and Russia. Mantsinen hydraulic material handlers have shown their benefits to numerous Benelux ports and terminals.
"Heavy Handling has been a showcase dealer with great results in both Belgium and the Netherlands. They have an extensive knowledge of state-of-the-art hydraulic machinery, and a straightforward vision with a strong will to grow in material handling segment. We are happy to have such a partner for us now covering France as well," said Mantsinen Sales Director Patrik Starck.
Closer relationship with Mantsinen Group and Heavy Handling means also dedicated people.
"We've had great results with Mantsinen, first in Belgium, and then also in the Netherlandsand we are very happy with the opportunity to expand to France. We've worked in the north-east of France many years for other types of equipment, so we know the market. A dedicated Mantsinen focused organization with customized service vehicles and service personnel focused to support customers in the best possible way is the key to success. Our first priority now is to set up or expand our local presence in France," summarizes Heavy Handling COO Christophe Crombez.
Recent Orders for Mantsinen Hydraulic Material Handlers include 2 big units to Customers in the Netherlands, i.e. Matrans Rotterdam Terminal as well as E.P. Stevedoring, each choosing a Mantsinen 300M unit on rubber tyres.
Latest News
(Posted on 27/01/23)
Biofuels are a current and accessible fuel option that can help marine customers decarbonize. Yet while... Read more
(Posted on 27/01/23)
BIO-UV Group has reported a 31% increase in revenues from its maritime business segment, contributing... Read more
(Posted on 23/01/23)
KVH Managed Firewall and Cloud Email value-added services available to commercial fleets to enhance... Read more
(Posted on 23/01/23)
NAVTOR has been announced as the latest industry leader to join the Smart Maritime Network (SMN).The... Read more
(Posted on 16/01/23)
One Sea has welcomed intelligent navigation solutions provider, Orca AI, as the newest member of the... Read more
(Posted on 10/01/23)
Elcome International, a leading provider of maritime systems and integration solutions, is providing... Read more
(Posted on 10/01/23)
Corrosion Products & Equipment (CPE), a specialist engineering firm based in Rochester, New York... Read more
(Posted on 04/01/23)
Bruks Siwertell has secured a new Siwertell ship unloader contract from cement and ready-mix concrete... Read more
(Posted on 23/12/22)
Superior Industries, Inc., a US-based manufacturer and global supplier of bulk material processing and... Read more
(Posted on 23/12/22)
Bruks Siwertell has received an order from Hallet Capital Pty Ltd for a Siwertell ship unloader. It... Read more