MacGregor receives €25 million order for general cargo cranes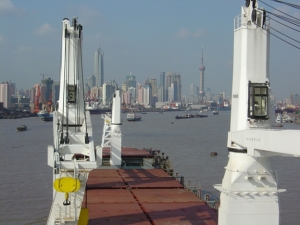 (Posted on 26/09/23)
MacGregor, part of Cargotec, has received a significant, more than EUR 25 million order for general cargo cranes for ten 84,500 dwt multipurpose vessels built in Asia.
The order was booked into Cargotec's 2023 third quarter orders received. The cranes are scheduled to be delivered between the fourth quarter of 2024 and the first quarter of 2026.
The order includes a total of 40 cranes with a lifting capacity of 75 tons. All cranes are connected to the latest worldwide service support and equipped with an active safety system for the highest possible secure operation.
MacGregor was selected as the supplier of these general cargo cranes thanks to its well-known design capabilities and long term good cooperation with the customer.
"I'm very proud of the confidence that the shipyard has shown in choosing us to supply cranes for this important project. We look forward to providing our customer with our high-class equipment and services," says Magnus Sjöberg, Senior Vice President, Merchant Solutions, MacGregor.
MacGregor is a leader in sustainable maritime cargo and load handling with a strong portfolio of products, services and solutions, all designed to perform with the sea.
Shipbuilders, shipowners and operators are able to optimise the lifetime profitability, safety, reliability and environmental sustainability of their operations by working in close cooperation with MacGregor.
MacGregor is part of Cargotec. Cargotec's sales in 2022 totalled approximately EUR 4.1 billion and it employs around 11,700 people worldwide.
Latest News
(Posted on 07/12/23)
In an initiative set to be transformational for ship design while protecting the oceans from pollution... Read more
(Posted on 03/12/23)
Ship design, particularly the design of bulk carriers, presents particular challenges when it comes... Read more
(Posted on 26/11/23)
VIKING Life-Saving Equipment, a global leader in maritime safety solutions, is launching an innovative... Read more
(Posted on 26/11/23)
Damen's client Gerdes Green has received a subsidy from the German Government for the investment... Read more
(Posted on 17/11/23)
A first of its kind training course for the Middle East has been held to teach mariners about the basic... Read more
(Posted on 13/11/23)
Wärtsilä ANCS, part of technology group Wärtsilä, has delivered to Seaspan, a marine... Read more
(Posted on 31/10/23)
The flag raising ceremony for three new ASD Tugs has taken place in Gdansk, Poland. In the presence... Read more
(Posted on 26/10/23)
A new immersive crane simulator that can recreate high-risk scenarios without putting drivers or other... Read more
(Posted on 23/10/23)
Vesto Ropes, a global leader in innovative steel wire-rope solutions, has announced a strategic partnership... Read more
(Posted on 23/10/23)
Bedeschi S.p.a. has been awarded a contract for the design and supply of a new longitudinal storage... Read more