Liebherr USA's new headquarters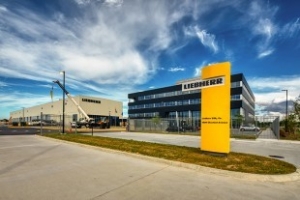 (Posted on 17/08/20)
As part of the 50th Anniversary celebration of Liebherr in the United States, Liebherr USA. Co. has presented its new U.S. corporate headquarters. The Liebherr Group added 251,000 square feet to its existing site in Newport News, Virginia.
The newly expanded Liebherr USA, Co. corporate HQ features a 60,000 ft² administrative building, a 82,000 ft² workshop and training facility, a 92,000 ft² parts distribution warehouse with retail operations, a guardhouse, and a one-story, 7,500 ft² wash bay building. The five new buildings cover a 30-acre site and significantly increase Liebherr's capability for expanded courses and in-house training, as well as for production, equipment preparation, product support, and parts distribution for the nine different product divisions that fall under the Liebherr USA, Co.'s umbrella.
Liebherr Maritime Cranes is a division of the Liebherr Group which specialises in cargo handling solutions for ports as well as for the shipping and offshore industry. Products include ship to shore cranes, mobile harbour cranes, offshore cranes, ship cranes, rubber tyre and rail mounted gantry cranes, reachstackers and straddle carriers.
The administration building is a four-story office building designed to enable seamless collaboration among team members. It features sophisticated design elements, multiple technology laden training rooms with video conferencing capabilities, and flexible workspaces for different types of working. The fourth-floor offers a variety of client-facing features and workspaces, as well as an executive conference area with two balconies.
The workshop houses a two-story training center with classrooms for in-house dealers, dealer technicians, and customers who gain hands-on experience with real equipment on the warehouse training floor.
A large maintenance shop allows Liebherr staff to service cranes of all sizes, concrete pump trucks, and earth moving equipment such as bull dozers, excavators, and loaders.
The $60 million investment underlines to the continuous success in Liebherr's 50 years of business operations in the United States.
Torben Reher, managing director of Liebherr USA Co. "Apart from investing in research and design for cutting edge technology, we have a long-term focus with respect to our business and the relationships with our customers. We want to grow together and our new site is the evidence for this approach; we are preparing for the future while investing in our customers' success."
Latest News
(Posted on 27/09/23)
EMS-Tech Inc., a global leader in engineering and innovation within the dry bulk material handling industry... Read more
(Posted on 26/09/23)
MacGregor, part of Cargotec, has received a significant, more than EUR 25 million order for general... Read more
(Posted on 26/09/23)
HEMEXPO, Hellenic Marine Equipment Manufacturers and Exporters, a leading suppliers and exporters association... Read more
(Posted on 19/09/23)
ClassNK has conducted third-party certification for the CO2 emissions reductions of "JGreeX&trade... Read more
(Posted on 12/09/23)
Charterers can save hundreds of thousands of dollars of unnecessary demurrage costs by drilling down... Read more
(Posted on 08/09/23)
Nippon Kaiji Kyokai (ClassNK) has joined the major classification societies to amend its rules relating... Read more
(Posted on 08/09/23)
On behalf of SLPLUS Holding and based on their trust in Feyz Group's operational capabilities,... Read more
(Posted on 08/09/23)
Leading corporate wellbeing provider OneCare Solutions (OCS) has launched the OneCare Solutions Mobile... Read more
(Posted on 04/09/23)
With CCS-Ready scrubbers now being sold at pace, Wärtsilä's studies across a range of... Read more
(Posted on 04/09/23)
German Ship Repair Jamaica Limited (GSRJ), a private joint venture of German, Turkish and Jamaican investors... Read more