Liebherr USA celebrates groundbreaking of new headquarters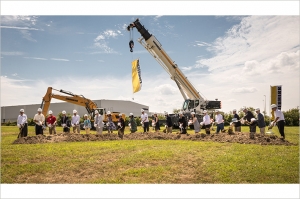 (Posted on 02/08/18)
Members of the Liebherr family, Executive Management and Newport News city officials gathered last week for a groundbreaking ceremony on site in Copeland Industrial Park to celebrate the construction of the new Liebherr USA, Co. headquarters.
The commencement of this $45 million expansion project marks the beginning of an exciting new chapter for Liebherr in the United States. The company that has been manufacturing and operating in Newport News, VA for over 48 years broke ground at the site adjacent to its current location. The new facility will serve as the new headquarters for Liebherr USA, Co. and will include the construction of three new buildings: a state–of-the-art four-story administrative building, a carefully designed warehouse and parts distribution centre to meet current and future requirements, and a modernised production and workshop facility intended to support the company's cranes, construction and concrete divisions.
Once completed, the new buildings will add over 251,000 square feet to the existing 560,000 square foot Liebherr campus. This investment will greatly impact the company's operations in the U.S. and drive Liebherr's strategy for long-term growth. Construction is expected to be completed in 2020, and will house Liebherr USA, Co. employees working in administration, finance, marketing, human resources, sales and service, product support, production and distribution for eight product divisions.
Latest News
(Posted on 20/03/23)
Thordon Bearings is supplying its grease-free, self-lubricating ThorPlas-Blue bearing material to a... Read more
(Posted on 20/03/23)
French water treatment specialist BIO-UV Group has appointed Laurent-Emmanuel Migeon as its new Chairman... Read more
(Posted on 07/03/23)
With Wärtsilä's CII Dashboard, Anglo-Eastern is now able to make better informed decisions... Read more
(Posted on 07/03/23)
Bruks Siwertell has completed the commissioning of two large-scale Siwertell ST 790-D-type ship unloaders... Read more
(Posted on 28/02/23)
A consortium including technology group Wärtsilä has secured European Union funding to develop... Read more
(Posted on 28/02/23)
Bruks Siwertell has received an order for a next-generation Siwertell road-mobile ship unloader from... Read more
(Posted on 24/02/23)
Global Survival Technology solutions provider Survitec has introduced a new, formalised pre-inspection... Read more
(Posted on 24/02/23)
The slightest deviation in the machining, polishing, and finishing of ships' propeller blades... Read more
(Posted on 20/02/23)
Bühler expanded its business and improved profitability in an uncertain and volatile business environment... Read more
(Posted on 20/02/23)
Wärtsilä plans to further focus on end-to-end voyage optimisation and to move part of Voyage... Read more