LHM 550 celebrates 300th delivery with bulk handling crane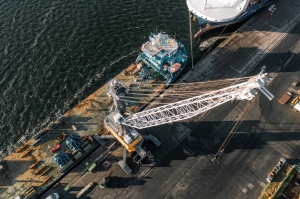 (Posted on 18/03/22)
The Liebherr LHM 550 mobile harbour crane is continuing a success story that has already lasted for over ten years. Liebherr has announced an anniversary with the 300th delivery of this crane type. One of Poland's largest port handling operators based in Gdansk, Port Gda?sk Eksploatacja S.A., recently took delivery of its 300th LHM 550. For the company, which carries out handling activities on a total area of over 89 hectares, it is one of the largest investments in the company's thirty-year history. The crane supplied has a boom length of 48 metres and a lifting capacity of up to 104 tonnes. The new machine will primarily be used for bulk handling of coke, coal and scrap metal.
"We want to increase the effectiveness, functionality and speed of our services. The quality of our work processes will improve significantly. This will have a positive impact on our handling rate. In addition, our customers can expect faster handling of the commissioned vessels. We greatly appreciate the extraordinary mobility of this machine. We trained our crane operators at an early stage and carried out extensive modernisation measures in the port area in advance so that we could use the machine as quickly and as efficiently as possible," comments Rados?aw Stojek, Chairman of the Board of Port Gda?sk Eksploatacja S.A. A unique
The delivery of the first LHM 550 to Kuwait in 2010, marked the beginning of a Liebherr success story. As the most popular crane type in the Liebherr mobile harbour crane portfolio, the LHM 550 has contributed significantly to Liebherr's market leadership in the MHC market, which has lasted for more than ten years. In every year since its market launch, a double-digit number of this crane type alone has been delivered worldwide. In terms of sales per country, India leads the ranking with 23 units sold, closely followed by Italy and the USA. In the 2021 sales year alone, 26 LHM 550s were sold worldwide.
The Liebherr mobile harbour crane series is suitable for a wide range of applications. For example, the LHM 550 can be used for bulk or general cargo handling as well as for container handling. Even heavyduty lifts of up to 154 tonnes are possible. Statistics show that a large number of Liebherr customers use the LHM 550 for several applications. Well over 200 of the units sold are used for at least two or three applications. Of these, most are used for bulk and container handling.
Further to the possibilities in application, multiple drive types are also versatile. In addition to a hybrid drive concept consisting of diesel and electric motors, the cranes can also be used exclusively in electric only operation, thus making an important contribution to emission-free goods handling. Over 30 % of the LHM 550s sold in the 2021 sales year were equipped with an electric main drive.
Latest News
(Posted on 19/09/23)
ClassNK has conducted third-party certification for the CO2 emissions reductions of "JGreeX&trade... Read more
(Posted on 12/09/23)
Charterers can save hundreds of thousands of dollars of unnecessary demurrage costs by drilling down... Read more
(Posted on 08/09/23)
Nippon Kaiji Kyokai (ClassNK) has joined the major classification societies to amend its rules relating... Read more
(Posted on 08/09/23)
On behalf of SLPLUS Holding and based on their trust in Feyz Group's operational capabilities,... Read more
(Posted on 08/09/23)
Leading corporate wellbeing provider OneCare Solutions (OCS) has launched the OneCare Solutions Mobile... Read more
(Posted on 04/09/23)
With CCS-Ready scrubbers now being sold at pace, Wärtsilä's studies across a range of... Read more
(Posted on 04/09/23)
German Ship Repair Jamaica Limited (GSRJ), a private joint venture of German, Turkish and Jamaican investors... Read more
(Posted on 28/08/23)
The 'clipboard, pen and paper' approach to creating Statement of Facts (SoF) documents is... Read more
(Posted on 21/08/23)
KVH Industries, Inc. has announced the completion of a three-year renewal of its satellite services... Read more
(Posted on 14/08/23)
KVH has announced its membership in ISWAN (The International Seafarers' Welfare and Assistance... Read more