Konecranes hands over first Generation 6 MHC in Finland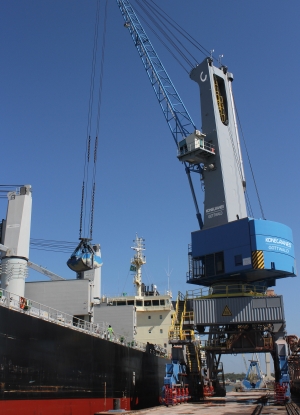 (Posted on 09/09/22)
Oy Adolf Lahti Yxpila Ab (Adolf Lahti) and the stevedoring company Oy M. Rauanheimo Ab (Rauanheimo) are now operating a new, eco-efficient Generation 6 Konecranes Gottwald Mobile Harbour Crane at the Port of Röyttä in Tornio, Finland, next to the Swedish border. The order was booked in February 2022 and the crane was delivered in July. The new crane is handling general cargo and containers and is now the largest and most modern crane of the six cranes the companies operate in the port of Tornio.
Adolf Lahti and Rauanheimo are subsidiaries of KWH Logistics, the leading port operator in Finland. KWH offers a wide range of logistical services from stevedoring, freight forwarding and shipping agency services to international transport, mill and maintenance services. KWH has operations in 16 Finnish ports and 15 inland locations where large quantities of goods are handled. Excellent productivity and a smaller carbon footprint were key in choosing the new crane.
"Crane operators at the ports where we recently took over operations have had excellent experience with the Konecranes Gottwald brand. In the Generation 6, handling performance and reliability are at a whole new level and the eco-efficient electric drive system supports our sustainability efforts," says Pekka Pöllänen, CEO of Adolf Lahti.
The new ESP.6 Konecranes Gottwald Mobile Harbor Crane in Tornio has a working radius of 49 m and a capacity of 125 t. As one of the new Generation 6 mobile harbor cranes, it offers stronger lifting capacity curves to reach larger vessels and higher handling rates. The crane has been prepared for an external power supply, so it produces zero local exhaust emissions and reduced noise while running more efficiently when connected to the harbor mains. For unplugged operation, it uses an onboard diesel generator set in line with EU Stage V emission standards.
"We are confident that Adolf Lahti has found the right solution for their needs with this Generation 6 mobile harbor crane. It gives them high performance and productivity, and we look forward to building a long-term partnership with them," says Hans-Juergen Schneider, Regional Sales Manager, Port Solutions, Konecranes.
A strong focus on customers and a commitment to business growth and continuous improvement make Konecranes a lifting industry leader. This is underpinned by investments in digitalization and technology, plus our work to make material flows more efficient with solutions that decarbonize the economy and advance circularity and safety.
Latest News
(Posted on 31/03/23)
Konecranes has won an order for two Konecranes Gottwald Cranes on Barge from Winning Logistics in Guinea... Read more
(Posted on 31/03/23)
Technology group Wärtsilä has introduced a new radical derating retrofit solution –... Read more
(Posted on 31/03/23)
Thomas Zanzinger, CEO of Ocean Technologies Group (OTG), outlined why he thought many maritime businesses... Read more
(Posted on 28/03/23)
DNV has enhanced its Alternative Fuels Insight (AFI) data platform as part of an effort to accelerate... Read more
(Posted on 24/03/23)
Bruks Siwertell has secured an order for a next-generation Siwertell road-mobile ship unloader, which... Read more
(Posted on 20/03/23)
Thordon Bearings is supplying its grease-free, self-lubricating ThorPlas-Blue bearing material to a... Read more
(Posted on 20/03/23)
French water treatment specialist BIO-UV Group has appointed Laurent-Emmanuel Migeon as its new Chairman... Read more
(Posted on 07/03/23)
With Wärtsilä's CII Dashboard, Anglo-Eastern is now able to make better informed decisions... Read more
(Posted on 07/03/23)
Bruks Siwertell has completed the commissioning of two large-scale Siwertell ST 790-D-type ship unloaders... Read more
(Posted on 28/02/23)
A consortium including technology group Wärtsilä has secured European Union funding to develop... Read more