Konecranes Gottwald MHCs for Antwerp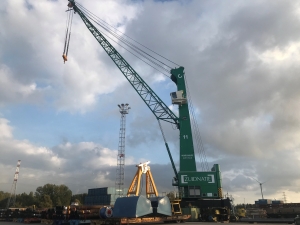 (Posted on 22/11/19)
Konecranes has supplied two eco-efficient Konecranes Gottwald Mobile Harbor Cranes to Belgian logistics and transportation firm Zuidnatie Breakbulk. The order included a Model 3 and a Model 7 crane.
Founded in 1870, Zuidnatie has a long history serving their customers in Antwerp, the second-largest port in Europe and one of the top 20 commercial harbors in the world. The company provides logistics and transportation services for all kinds of cargo. To further extend their business, Zuidnatie has recently commissioned two more mobile harbor cranes.
"We've been operating Konecranes Gottwald mobile harbor cranes for more than 20 years," says Stéphanie Feys, Managing Director of Zuidnatie NV. "We trust both the high overall performance of the cranes and the eco-efficiency of their diesel-electric drive. After discussing our needs with Konecranes, we've decided to move closer to fully-electric operation for both environmental and economic reasons."
For empty container handling and heavy loads up to 100 tons
in their operations area at Quay 624, Zuidnatie has opted for a Konecranes Gottwald Model 3 mobile harbor crane GHMK 3405 in the two-rope variant. The crane is equipped with an external power supply to be connected to the harbor mains, reducing local exhaust and
noise emissions in the terminal. For bulk and break-bulk handling
at Quay 480, they chose a Model 7 in the four-rope variant
G HMK 7508 B, with a powerful 63-t grab curve in A7 and a maximum capacity of 125 tons. Prepared for an external power supply, electric conversion will be easy when resources allow.
"Konecranes' electric drives give lower operational costs over the crane's lifecycle and can deliver even higher efficiency with an external power supply, making them an excellent investment for our customers," said Alexandros Stogianidis, Director Sales Benelux for Konecranes Port Solutions. "This project underlines the value of our long-term partnerships with our customers, and shows the growing momentum behind our eco-efficient portfolio of products."
Konecranes is a world-leading group of Lifting Businesses™, serving a broad range of customers, including manufacturing and process industries, shipyards, ports and terminals.
Latest News
(Posted on 24/03/23)
Bruks Siwertell has secured an order for a next-generation Siwertell road-mobile ship unloader, which... Read more
(Posted on 20/03/23)
Thordon Bearings is supplying its grease-free, self-lubricating ThorPlas-Blue bearing material to a... Read more
(Posted on 20/03/23)
French water treatment specialist BIO-UV Group has appointed Laurent-Emmanuel Migeon as its new Chairman... Read more
(Posted on 07/03/23)
With Wärtsilä's CII Dashboard, Anglo-Eastern is now able to make better informed decisions... Read more
(Posted on 07/03/23)
Bruks Siwertell has completed the commissioning of two large-scale Siwertell ST 790-D-type ship unloaders... Read more
(Posted on 28/02/23)
A consortium including technology group Wärtsilä has secured European Union funding to develop... Read more
(Posted on 28/02/23)
Bruks Siwertell has received an order for a next-generation Siwertell road-mobile ship unloader from... Read more
(Posted on 24/02/23)
Global Survival Technology solutions provider Survitec has introduced a new, formalised pre-inspection... Read more
(Posted on 24/02/23)
The slightest deviation in the machining, polishing, and finishing of ships' propeller blades... Read more
(Posted on 20/02/23)
Bühler expanded its business and improved profitability in an uncertain and volatile business environment... Read more