Konecranes Gottwald Generation 6 MHC for Mexican terminal operator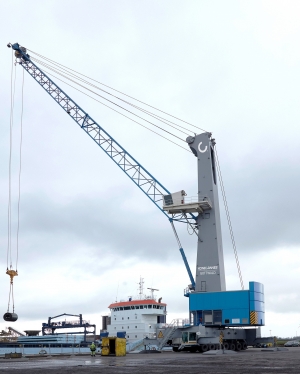 (Posted on 11/02/22)
Mexican terminal operator Grupo CICE (Corporación Integral de Comercio Exterior S.A. de C.V.) has ordered an eco-efficient Generation 6 Konecranes Gottwald Mobile Harbour Crane for their terminal in the Port of Veracruz on the shore of the Gulf of Mexico. This is a first order for this type of crane for CICE, but it will be their 10th Konecranes Gottwald mobile harbour crane delivered along their 30 years of operations. The order was booked in December 2021 and the crane will be delivered in April 2022.
CICE provides port and logistics services since 1991 at several locations in Mexico from their head office in Veracruz. The Port of Veracruz is the oldest and largest port in the country and includes CICE's largest facility. With a continuing expansion of terminal capacity, CICE is looking to upgrade its equipment with a high-capacity crane that can handle both general cargo, project cargo and containers.
"We are expecting larger vessels to call at our terminal in the Port of Veracruz, so we need to invest in a larger crane. We have operated nine Konecranes Gottwald Mobile Harbour Cranes over the last 20 years, and have been very satisfied with their performance and reliability. So Konecranes Gottwald has been the first choice in this crane acquisition process. This new Generation 6 crane, which will be crane number ten, promises even more handling capacity and service life," says Leoncio Perez, CEO at Grupo CICE.
The new Generation 6 crane will be a Konecranes Gottwald ESP.9 Mobile Harbour Crane, with a working radius of up to 61 m and a lifting capacity of 125 t. It features a tower extension for reaching higher container stacks on deck and a better view of the vessels and working environment. It provides a strong lifting capacity curve for high handling performance and an A7 classification in container handling for a long service life.
"CICE's reaching of this milestone with us demonstrates the confidence they have in our brand and the new Generation 6 cranes as we move forward in a solid business partnership that has been going strong for over two decades," says Andreas Moeller, Senior Sales Manager Mobile Harbour Cranes, for Konecranes Port Solutions.
"This new crane also underlines how we adapt to changing customer needs, particularly with regard to crane size and handling performance," adds Marc Wellenberg, Regional Sales Manager for Konecranes Port Solutions. "It opens another chapter in the success story of Konecranes in the Americas, as the eyes of customers in the region are opening to see the benefits of our new Generation 6 mobile harbour crane."
A strong focus on customers and commitment to business growth and continuous improvement make Konecranes a lifting industry leader. This is underpinned by investments in digitalization and technology, plus our work to make material flows more efficient with solutions that decarbonize the economy and advance circularity and safety.
Latest News
(Posted on 19/09/23)
ClassNK has conducted third-party certification for the CO2 emissions reductions of "JGreeX&trade... Read more
(Posted on 12/09/23)
Charterers can save hundreds of thousands of dollars of unnecessary demurrage costs by drilling down... Read more
(Posted on 08/09/23)
Nippon Kaiji Kyokai (ClassNK) has joined the major classification societies to amend its rules relating... Read more
(Posted on 08/09/23)
On behalf of SLPLUS Holding and based on their trust in Feyz Group's operational capabilities,... Read more
(Posted on 08/09/23)
Leading corporate wellbeing provider OneCare Solutions (OCS) has launched the OneCare Solutions Mobile... Read more
(Posted on 04/09/23)
With CCS-Ready scrubbers now being sold at pace, Wärtsilä's studies across a range of... Read more
(Posted on 04/09/23)
German Ship Repair Jamaica Limited (GSRJ), a private joint venture of German, Turkish and Jamaican investors... Read more
(Posted on 28/08/23)
The 'clipboard, pen and paper' approach to creating Statement of Facts (SoF) documents is... Read more
(Posted on 21/08/23)
KVH Industries, Inc. has announced the completion of a three-year renewal of its satellite services... Read more
(Posted on 14/08/23)
KVH has announced its membership in ISWAN (The International Seafarers' Welfare and Assistance... Read more