Konecranes Gen 6 MHC to upgrade Venetian port bulk handling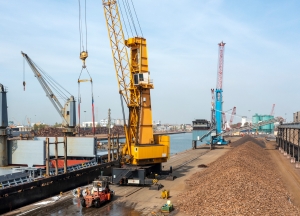 (Posted on 20/06/22)
The FHP Group has ordered an eco-efficient Generation 6 Konecranes Gottwald Mobile Harbour Crane for their Multi Service Terminal in the Marghera Port near Venice, in northern Italy. The crane will upgrade their bulk handling operations by increasing efficiency while reducing local exhaust emissions. The order was booked in April 2022 and the crane will be delivered and commissioned in November.
The FHP Holding Portuale Group manages logistic platforms in Carrara, Livorno, Monfalcone and Venice, creating a strategic link between the Adriatic and Tyrrhenian to support the competitiveness of the Italian industry. FHP manages the Multi Service Terminal (MST) in Venice, which provides a wide range of port handling services including bulk cargo handling. The new crane will provide added capacity for MST's bulk cargo handling operations.
"We already operate older Konecranes Gottwald Mobile Harbor Cranes at Marghera and other FHP terminals, and they've always performed above our expectations. FHP Group continuously works to decrease its carbon footprint. For this reason, we're very pleased to have a new Generation 6 on order, that is part of Ecolifting Konecranes, from eco-optimizing diesel drives to hybridization and fully electric fleets. With improved performance and additional features, we're really looking forward to seeing how it handles bulk at the Multi Service Terminal," says Alessandro Becce, CEO of FHP Group.
The new crane is a Konecranes Gottwald ESP.7B Mobile Harbor Crane, with a working radius of 51 m and a capacity of 125 t. The crane is equipped for an external power supply, for zero local exhaust emissions and reduced noise when operated via the harbor mains. For unplugged operation, the crane uses an onboard diesel generator set that complies with EU Stage V emission standards. Specially adapted for bulk handling, it features strong lifting capacity curves for improved performance. It also has smart software and digital services in line with Italy's National Industry 4.0 Plan, a state strategy that encourages industrial innovation.
"Konecranes has been working closely with FHP Group for decades, and we're delighted that they've chosen us again for the new bulk crane in their Marghera terminal. This order shows that FHP can really see the potential of the Generation 6 crane with its high productivity, reliability and fuel efficiency," says Gino Gherri, Regional Sales Manager, Konecranes, Port Solutions.
This is part of Ecolifting, Konecranes' continuous work to decrease the carbon footprints of our customers. From eco-optimizing diesel drives to hybridization and fully electric fleets, we will continue to do more with less.
A strong focus on customers and commitment to business growth and continuous improvement make Konecranes a lifting industry leader. This is underpinned by investments in digitalization and technology, plus our work to make material flows more efficient with solutions that decarbonize the economy and advance circularity and safety.
Latest News
(Posted on 26/11/23)
VIKING Life-Saving Equipment, a global leader in maritime safety solutions, is launching an innovative... Read more
(Posted on 26/11/23)
Damen's client Gerdes Green has received a subsidy from the German Government for the investment... Read more
(Posted on 17/11/23)
A first of its kind training course for the Middle East has been held to teach mariners about the basic... Read more
(Posted on 13/11/23)
Wärtsilä ANCS, part of technology group Wärtsilä, has delivered to Seaspan, a marine... Read more
(Posted on 31/10/23)
The flag raising ceremony for three new ASD Tugs has taken place in Gdansk, Poland. In the presence... Read more
(Posted on 26/10/23)
A new immersive crane simulator that can recreate high-risk scenarios without putting drivers or other... Read more
(Posted on 23/10/23)
Vesto Ropes, a global leader in innovative steel wire-rope solutions, has announced a strategic partnership... Read more
(Posted on 23/10/23)
Bedeschi S.p.a. has been awarded a contract for the design and supply of a new longitudinal storage... Read more
(Posted on 18/10/23)
Rhenus Maritime Services (RMS) is adding a new coastal vessel to its fleet in the shape of the RMS Ruhrort... Read more
(Posted on 18/10/23)
Dualog, a leading maritime software provider, has introduced a major enhancement to the Dualog Drive... Read more