Hydrex bow thruster operation for bulker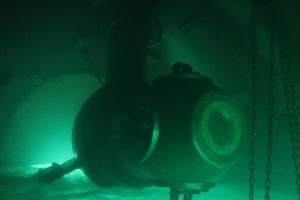 (Posted on 03/12/19)
A Hydrex team removed a bow thruster from a 229-meter bulk carrier. Two weeks later the overhauled unit was reinstalled. Both operations were done during stops in Algeciras, Spain and had to be carried out within the tight schedule available to the charterer.
The vessel could then shift and start cargo operations while Hydrex performed the rest of the operation without any hindrance to the loading schedule. The company's diver/technicians detached the blades one by one. In the meantime preparations were made in the bow thruster engine room for the removal of the unit so that there would be no ingress of water once it was taken out.
The next step was to secure the gearbox with hoisting equipment. The team then disconnected the unit from the bow thruster engine room and lowered it onto a cradle. This cradle was designed especially for such thruster operations. Simultaneously the team sealed off the tunnel from the bow thruster room. Once the unit was lifted onto the quay it was prepared for transport to the workshop.
Two weeks after Hydrex removed the thruster unit the team once again mobilized to the vessel. They reinstalled the overhauled unit underwater with the use of the Hydrex flexible mobdocks.
These were used to close off the thruster tunnel once the overhauled bow thruster had been brought inside. This technology has been used during thruster operations for over 20 years now and can be shipped anywhere in the world by plane.
All water was then removed from the tunnel. This created drydock like conditions for the divers despite the vessel staying afloat. The team secured the unit and connected it to the engine room. Once this was done the thruster propeller blades were installed one by one. With the thruster blades in position the ship was ready to sail.
By performing the thruster removal and reinstallation underwater, Hydrex made it possible for the owner to keep the vessel out of drydock.
The team worked in shifts around the clock and finished the job within the available time frame. This allowed the ship to sail on schedule, which was a key benefit for the charterer.
Performing a job like this takes a lot of planning. This can only be done successfully by staff who have familiarity with such operations and have the relevant know-how and equipment.
Hydrex can assist shipowners with almost any problem they encounter with their vessel's thruster. A wide range of underwater repair or maintenance work can be carried out to all types of thrusters. An entire unit can be overhauled, propeller blades or seals can be replaced or repair work on a specific part of a thruster can be performed on-site.
Latest News
(Posted on 31/03/23)
Konecranes has won an order for two Konecranes Gottwald Cranes on Barge from Winning Logistics in Guinea... Read more
(Posted on 31/03/23)
Technology group Wärtsilä has introduced a new radical derating retrofit solution –... Read more
(Posted on 31/03/23)
Thomas Zanzinger, CEO of Ocean Technologies Group (OTG), outlined why he thought many maritime businesses... Read more
(Posted on 28/03/23)
DNV has enhanced its Alternative Fuels Insight (AFI) data platform as part of an effort to accelerate... Read more
(Posted on 24/03/23)
Bruks Siwertell has secured an order for a next-generation Siwertell road-mobile ship unloader, which... Read more
(Posted on 20/03/23)
Thordon Bearings is supplying its grease-free, self-lubricating ThorPlas-Blue bearing material to a... Read more
(Posted on 20/03/23)
French water treatment specialist BIO-UV Group has appointed Laurent-Emmanuel Migeon as its new Chairman... Read more
(Posted on 07/03/23)
With Wärtsilä's CII Dashboard, Anglo-Eastern is now able to make better informed decisions... Read more
(Posted on 07/03/23)
Bruks Siwertell has completed the commissioning of two large-scale Siwertell ST 790-D-type ship unloaders... Read more
(Posted on 28/02/23)
A consortium including technology group Wärtsilä has secured European Union funding to develop... Read more