High grades for Sorghum in USGC report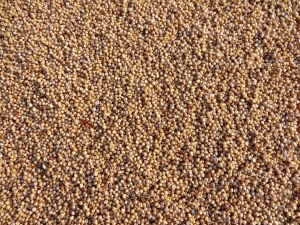 (Posted on 15/04/21)
The U.S. Grains Council (USGC) has published its 2020/2021 Sorghum Quality Report and for the second year in a row, U.S. sorghum was, on average, graded above necessary requirements for U.S. No. 1.
Protein content in sorghum was up eight percent year over year, with readings coming in at 11.2 percent, almost a full percentage point jump above last year's content.
"Protein content in sorghum is really what can set it apart from other coarse grains," said Reece Cannady, USGC manager of global trade. "When evaluating sorghum in animal diets, it's important to consider the value of this protein, particularly when every percentage point of protein is so precious with rapidly rising costs."
The report, funded through the U.S. Department of Agriculture's Foreign Agricultural Service (USDA's FAS) Agricultural Trade Promotion (ATP) program, provides international customers and other interested parties accurate, unbiased information about the 2020 U.S. sorghum crop.
To generate the report's findings, a total of 108 samples were collected from 13 participating elevators located in Texas, Kansas, Nebraska and South Dakota between Sept. 30, 2020 and Feb. 23, 2021 and were analyzed by the Amarillo Grain Exchange and the Cereal Quality Lab at Texas A&M University. Scientists there calculated averages and standard deviations for each quality factor tested and reported results for the U.S. aggregate.
Total sorghum damage came in at just 0.0 percent in the aggregate, and broken kernel and foreign material (BNFM) was only 1.6 percent, both similar to last year's results, highlighting how hard the grain is and how well it holds up during handling and storage.
For the second year in a row, 100 percent of the samples tested undetectable for tannins.
"A common misconception is that if sorghum is red, it has tannins in it, since that is the case in other major sorghum producing regions like Argentina, Africa and Australia," Cannady said. "But, in the U.S., we grow a non-tannin red variety. Nutrient absorption can be problematic with high-tannin varieties, essentially depleting the value of the grain, so using a low-tannin, U.S.-grown seed yields great results in animal diets."
This report is the second in a row completed since the 2016/2017 sorghum crop. The Council plans to roll out the information through webinar distribution around the world to all sorghum consumers and it will be a part of the Chinese corn export cargo report rollout in the near future.
"This report is helping fulfill the Council's mission to provide the latest information for end-users around the world interested in understanding how U.S. sorghum differs from other varieties," Cannady said. "We hope the 2020/2021 Sorghum Quality Report provides valuable information about the quality of U.S. sorghum and shows our valued trade partners that the United States is a trusted supplier."
Latest News
(Posted on 03/12/23)
Rio Tinto and Giampaolo Group have completed a transaction to form the Matalco joint venture, combining... Read more
(Posted on 03/12/23)
Khalifa Economic Zones Abu Dhabi – KEZAD Group, the largest operator of integrated and purpose... Read more
(Posted on 26/11/23)
ADM, a leader in sustainable agriculture supply chains, has announced an important expansion of its... Read more
(Posted on 17/11/23)
Trafigura, a market leader in the global commodities industry, has agreed to invest in an all-in-one... Read more
(Posted on 17/11/23)
ADM and Marathon Petroleum Corp. have celebrated the opening of their joint venture soybean processing... Read more
(Posted on 13/11/23)
Former U.S. Grains Council (USGC) Director of Global Programmes Alejandra Castillo was named the successor... Read more
(Posted on 13/11/23)
Rio Tinto has completed the acquisition of PanAmerican Silver's stake in Agua de la Falda and... Read more
(Posted on 05/11/23)
Cargill has completed an expansion and modernization project at its integrated soybean crush and refined... Read more
(Posted on 31/10/23)
BHP has approved an investment of US$4.9 billion (C$6.4 billion) for stage two of the Jansen potash... Read more
(Posted on 31/10/23)
Rio Tinto and cable solution provider Prysmian are partnering to build a more sustainable North American... Read more