High demand for Cimbria's innovative optical sorters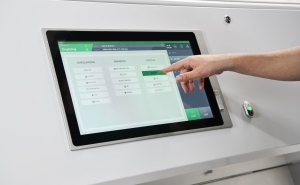 (Posted on 27/06/23)
Food safety, supply security, and high quality are on top of the agenda for Cimbria and its customers, which is reflected in a high demand for Cimbria's advanced and user-friendly optical sorters. Since the recent launch of the SEA.IQ optical sorter Cimbria has experienced a rising demand for its optical sorters in general. Cimbria's SEA optical sorters can detect and reject raw material having either non-conforming colours or shapes with extreme precision and sorting speed.
The demand for the highest quality seeds, grains, beans, rice, and other types of raw material for food production is constantly increasing to feed a growing world population and to safeguard human health. At the same time, reducing postharvest losses is a key measure with great potential. A recent insight from McKinsey & Company describing the postharvest losses in various steps of the value chain estimates losses in the processing step to be between 5 and 30 percent depending on milling type.
To meet these demands, Cimbria's optical sorting machines and systems ranging from UV visible to NIR/InGaAs are becoming more and more sophisticated and combines different types of extraordinary technologies. The use of highly specialized technology allows an immediate advantage in both quality and operating costs.
With the recently launched SEA.IQ using a combined multispectral vision system and ultra-violet possibilities, the popularity of Cimbria's optical sorters has reached new heights.
-In a world that focuses on research to guarantee the necessary quantities of food for humanity, Cimbria supports not only the enhancing of food commodities. Our commitment is also to guarantee healthy and excellent quality food for future generations. Our SEA optical sorters are simply fantastic products that guarantee safety and constant premium quality in the final products. The growing demand from customers for high-end optical sorters like the SEA.IQ series proves that we are once again on the right track, explains Michela Pelliconi, Head of Sales Optical Sorting at Cimbria.
Thanks to real-colour technology, the SEA.IQ sees better than the human eye and provides the best possible results in terms of purity and concentration of rejects. The all-new optical system integrates RGB, NIR, and SWIR or UV. They work in multi-frequency to match multiple data collected during tens of thousands of scans per second.
The ability to sort different types of commodities in the same machine and with more than 75 scans of every single grain is another key advantage in Cimbria's optical sorters. It's not unusual for customers to handle grains, beans, and rice in the same plant, which makes flexible machinery highly desirable.
The perfect optical sorter is the one that combines precision mechanics, dedicated electronics, and the best and most advanced vision technology. This is what our SEA optical sorters do. Our test room in Imola, Italy continuously receives visitors from all over the world who are looking for the ideal solution as well as a reliable partner to be by their side throughout the entire process. Cimbria's several decades of specific research and activity on optical sorting guarantees the customer a solution with high, constant, and long-lasting performance over time, says Michela Pelliconi.
With more than 75 years of expertise, Cimbria has a leading position in top-range solutions for food handling and storage and a strong and powerful setup to realize the ambitious and complex development of products and turnkey projects. A solid and extensive dealer network is a two-way street supporting customers in identifying the best solutions for them and offering valuable feedback to Cimbria in their product development.
Cimbria is a world leader in industrial processing, handling, and storage of cereals and seeds as well as animal feed, food, and other bulk products. Cimbria works closely with their customers to design, manufacture, install, and service customized solutions, individual machines, and complete turnkey systems.
Latest News
(Posted on 07/12/23)
In an initiative set to be transformational for ship design while protecting the oceans from pollution... Read more
(Posted on 03/12/23)
Ship design, particularly the design of bulk carriers, presents particular challenges when it comes... Read more
(Posted on 26/11/23)
VIKING Life-Saving Equipment, a global leader in maritime safety solutions, is launching an innovative... Read more
(Posted on 26/11/23)
Damen's client Gerdes Green has received a subsidy from the German Government for the investment... Read more
(Posted on 17/11/23)
A first of its kind training course for the Middle East has been held to teach mariners about the basic... Read more
(Posted on 13/11/23)
Wärtsilä ANCS, part of technology group Wärtsilä, has delivered to Seaspan, a marine... Read more
(Posted on 31/10/23)
The flag raising ceremony for three new ASD Tugs has taken place in Gdansk, Poland. In the presence... Read more
(Posted on 26/10/23)
A new immersive crane simulator that can recreate high-risk scenarios without putting drivers or other... Read more
(Posted on 23/10/23)
Vesto Ropes, a global leader in innovative steel wire-rope solutions, has announced a strategic partnership... Read more
(Posted on 23/10/23)
Bedeschi S.p.a. has been awarded a contract for the design and supply of a new longitudinal storage... Read more