Hempel's strong result in extraordinary year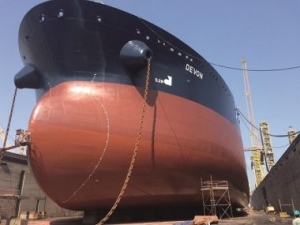 (Posted on 05/03/21)
Hempel grew its revenue to EUR 1,542 million in 2020 and demonstrated strong organic growth of 3.2 per cent, despite a declining global coatings market, building on momentum from 2019. The company continued its transformation to become a stronger global company ready to accelerate growth and double the business by 2025.
2020 was a strong year for the Marine segment, especially in Asia Pacific with many vessels coming into dry dockings for scheduled maintenance. Hempel's leading hull coating, Hempaguard X7, completed 2,000 applications. Since its launch in 2013, it has reduced the combined fuel consumption by 7.6 million tonnes and lowered vessels' CO2 emissions by 23.5 million tonnes.
Despite uncertainty and disruption across regions and markets due to the COVID-19 pandemic, Hempel demonstrated agility and clear priorities concerning the safety of employees, timely and high-quality support to customers, as well as financial robustness to protect future investments. With an EBITDA margin of 10.1 per cent, including extraordinary high investments in our supply chain in China, this was a satisfactory result. "I am very satisfied with our achievements last year as we managed to deliver a strong performance during unprecedented times. We have now seen organic growth for six quarters in a row and been able to reduce our debt further. This puts us in a strong position for the coming years," says Lars Petersson, Group President & CEO of Hempel and continues, "I would like to personally thank all my colleagues for a truly outstanding performance under very difficult circumstances."
As a world-leading supplier of trusted coating solutions, Hempel is a global company with strong values, working with customers in the decorative, marine, infrastructure and energy segments.
Latest News
(Posted on 07/12/23)
In an initiative set to be transformational for ship design while protecting the oceans from pollution... Read more
(Posted on 03/12/23)
Ship design, particularly the design of bulk carriers, presents particular challenges when it comes... Read more
(Posted on 26/11/23)
VIKING Life-Saving Equipment, a global leader in maritime safety solutions, is launching an innovative... Read more
(Posted on 26/11/23)
Damen's client Gerdes Green has received a subsidy from the German Government for the investment... Read more
(Posted on 17/11/23)
A first of its kind training course for the Middle East has been held to teach mariners about the basic... Read more
(Posted on 13/11/23)
Wärtsilä ANCS, part of technology group Wärtsilä, has delivered to Seaspan, a marine... Read more
(Posted on 31/10/23)
The flag raising ceremony for three new ASD Tugs has taken place in Gdansk, Poland. In the presence... Read more
(Posted on 26/10/23)
A new immersive crane simulator that can recreate high-risk scenarios without putting drivers or other... Read more
(Posted on 23/10/23)
Vesto Ropes, a global leader in innovative steel wire-rope solutions, has announced a strategic partnership... Read more
(Posted on 23/10/23)
Bedeschi S.p.a. has been awarded a contract for the design and supply of a new longitudinal storage... Read more