HEMEXPO signs MoU with Greek Exporters Association, SEVE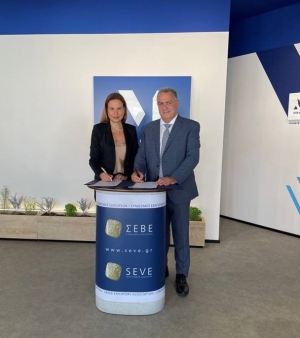 (Posted on 26/09/23)
HEMEXPO, Hellenic Marine Equipment Manufacturers and Exporters, a leading suppliers and exporters association for the international shipping sector, has signed a memorandum of understanding (MoU) with the Greek Exporters Association (SEVE).
Signed during the Thessaloniki International Fair on Friday 15 September by Mr. Symeon Diamantidis, President SEVE, and HEMEXPO President, Ms. Eleni Polychronopoulou, the MoU establishes a general framework of cooperation for the organizations to enhance their export orientation and strengthen their collective position in the international market.
As part of the agreement, which was originally discussed at the SEVE Export Summit VII in 2019, HEMEXPO and SEVE aim to:
Support outward orientation, promotion, training, and certification of industry businesses, as well as business networking (B2B) and their connection with foreign markets.
Highlight Greek manufacturing and industry as a strategic business partner at the international level.
Strengthen research and development in export sectors, as well as the transfer of industrial training to create a large pool of highly specialised labour.
During the signing, Mr. Diamantidis emphasized the pivotal role played by both organizations in the Greek economy. He pointed out that one of their common characteristics is the exceptional prospects presented by the sectors they represent. Furthermore, he highlighted how these prospects could be transformed into reality, resulting in high growth rates for the member companies of both organizations and increased added value for the Greek economy.
Ms. Polychronopoulou, said: "I am very excited about the opportunity for Greek Manufacturers of Maritime Equipment to work closely with the Association of Greek Exporters, SEVE. Both organizations share the same primary focus – a business orientation that prioritises foreign markets. The goal is to boost the country's exports and I firmly believe that the memorandum we signed will yield tangible results in both the short and long term.
"The two organizations will also address a crucial issue facing the country's productive sectors today, which is the lack of a sufficient number of highly specialized professionals. This shortage is a feature of almost every sector of the economy and must be addressed urgently."
Latest News
(Posted on 07/12/23)
In an initiative set to be transformational for ship design while protecting the oceans from pollution... Read more
(Posted on 03/12/23)
Ship design, particularly the design of bulk carriers, presents particular challenges when it comes... Read more
(Posted on 26/11/23)
VIKING Life-Saving Equipment, a global leader in maritime safety solutions, is launching an innovative... Read more
(Posted on 26/11/23)
Damen's client Gerdes Green has received a subsidy from the German Government for the investment... Read more
(Posted on 17/11/23)
A first of its kind training course for the Middle East has been held to teach mariners about the basic... Read more
(Posted on 13/11/23)
Wärtsilä ANCS, part of technology group Wärtsilä, has delivered to Seaspan, a marine... Read more
(Posted on 31/10/23)
The flag raising ceremony for three new ASD Tugs has taken place in Gdansk, Poland. In the presence... Read more
(Posted on 26/10/23)
A new immersive crane simulator that can recreate high-risk scenarios without putting drivers or other... Read more
(Posted on 23/10/23)
Vesto Ropes, a global leader in innovative steel wire-rope solutions, has announced a strategic partnership... Read more
(Posted on 23/10/23)
Bedeschi S.p.a. has been awarded a contract for the design and supply of a new longitudinal storage... Read more