Grenaa goes for green e-drive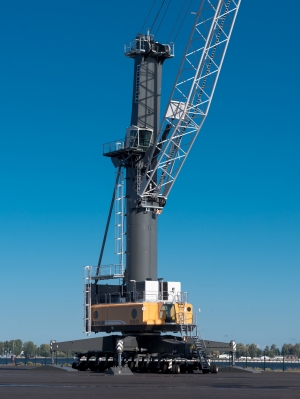 (Posted on 02/12/20)
Grenaa is a port city on the Kattegat and forms the geographical centre of Denmark. The port of Grenaa is one of Denmark's largest commercial
and industrial ports. In October, the Port of Grenaa ordered a Liebherr mobile harbour crane type LHM 550.
As one of the existing cranes was no longer up to date, the port decided to upgrade its
equipment and increase its performance with new mobile harbour crane technology. For this
reason, the port authorities decided to purchase a Liebherr LHM 550 mobile harbour crane,
which is by far the most frequently sold model in the LHM portfolio with more than 250 units
The demand for sustainable, environmentally sensitive operation and for low-emission cargo
handling cranes is becoming increasingly important. Also, the Danish port of Grenaa wants to
strengthen its green profile with the locally emission-free drive. Before the LHM 550, which
was previously in service in Finland for three years, is delivered to the port of Grenaa, it is
given an upgrade at Liebherr's maritime headquarters in Rostock, Germany. Here the
LHM 550 will be fitted with an electric drive, which will significantly reduce future emissions
when handling goods.
With its 54 metres long boom and a maximum lifting capacity of 144 tonnes, the LHM 550
covers a wide range of handling options. In addition to the hydrostatic drive, the mobility of the
LHM is a decisive advantage for the customer. All wheel sets are individually steerable and
have load balancing, whereby the ground pressure for each wheel does not exceed six tonnes.
Furthermore, the 360° mobility ensures highest maneuverability. This is a decisive advantage
at all quays and terminals.
The Port of Grenaa
The port of Grenaa has a history of more than 200 years. It has grown from a fishing and
ferry port. Over the years the port has broadened its work to bulk activities as well as project
and stacking activities. The construction of the Anholt offshore wind farm in 2013 gave the
port of Grenaa national and international recognition as a thoroughly proficient wind turbine
port. This makes it one of Denmark's leading industrial ports for wind turbine projects.
Liebherr-MCCtec Rostock GmbH is one of the leading European manufacturers of maritime material handling
solutions. The product range comprises ship, mobile harbour and offshore cranes.
Latest News
(Posted on 07/12/23)
In an initiative set to be transformational for ship design while protecting the oceans from pollution... Read more
(Posted on 03/12/23)
Ship design, particularly the design of bulk carriers, presents particular challenges when it comes... Read more
(Posted on 26/11/23)
VIKING Life-Saving Equipment, a global leader in maritime safety solutions, is launching an innovative... Read more
(Posted on 26/11/23)
Damen's client Gerdes Green has received a subsidy from the German Government for the investment... Read more
(Posted on 17/11/23)
A first of its kind training course for the Middle East has been held to teach mariners about the basic... Read more
(Posted on 13/11/23)
Wärtsilä ANCS, part of technology group Wärtsilä, has delivered to Seaspan, a marine... Read more
(Posted on 31/10/23)
The flag raising ceremony for three new ASD Tugs has taken place in Gdansk, Poland. In the presence... Read more
(Posted on 26/10/23)
A new immersive crane simulator that can recreate high-risk scenarios without putting drivers or other... Read more
(Posted on 23/10/23)
Vesto Ropes, a global leader in innovative steel wire-rope solutions, has announced a strategic partnership... Read more
(Posted on 23/10/23)
Bedeschi S.p.a. has been awarded a contract for the design and supply of a new longitudinal storage... Read more