Green Corridor's innovative bulk carrier designs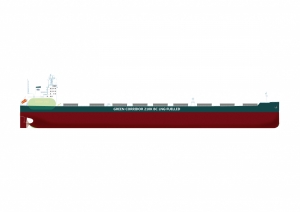 (Posted on 20/09/18)
The Green Corridor Joint Industry Project (JIP) has ended on a high note, delivering a well-received LNG-fuelled Newcastlemax design for transporting iron ore and coal on the Australia–China route in Phase 1a, and upsizing it to the very large ore carrier (VLOC) class in Phase 1b. The project was recently concluded with a signing ceremony in Singapore.
"The Green Corridor project brought together key stakeholders in the iron ore and coal trades, and the partners have made great progress in developing greener, more efficient, and future-proof designs. Innovations delivered will benefit not only ore and coal carriers, but the entire bulk segment," says Morten Løvstad, DNV GL's Business Director for bulk carriers.
When the IMO confirmed the 2020 deadline for the 0.5 per cent global sulphur cap in 2016, key stakeholders serving the Australia–China iron ore and coal trade route, including major Australian miners BHP, Fortescue Metals Group and Rio Tinto, ship owners MOL and U-Ming, together with LNG supplier Woodside, ship designer SDARI, and class society DNV GL, decided to join forces to develop a suitable LNG-fuelled bulk carrier solution for the route. China Merchant Energy Shipping and Shell Eastern Petroleum joined the project in a later phase.
The result was a robust, commercially viable and safe 210,000 dwt LNG-fuelled bulk carrier design, developed using leading-edge but proven technology. The Newcastlemax design from phase 1a was well received, and Approval in Principal (AiP) was issued by DNV GL in 2017. In Phase 1b, the project concluded work on a dual-fuel 260,000 dwt dedicated ore carrier design based on the same economical and technical principles.
A key accomplishment of Phase 2 was to promote the development of optimized LNG bunkering supply chains to support efficient bunkering of bulkers along the trading route, in order to give the industry the confidence to invest in LNG-fuelled bulk carriers. Woodside and Shell advised on LNG bunkering possibilities in Australia and the APAC region and the related supply chain costs.
Bunkering issues such as compatibility and safety studies for ship-to-ship bunkering have been addressed, and the economic calculation has been updated accordingly to demonstrate a more robust business case for LNG as fuel. Due to the rapid rise in crude oil prices over the past year, the price of low-sulphur marine fuel is now 50 per cent higher than when economics were analysed for Phase 1a in early 2017.
U-Ming President C. K. Ong comments: "U-Ming is very happy to have worked with like-minded partners to find smarter ways to look after the environment, and we will continue to invest to stay ahead of the technological developments. We look forward to the project results being put into action to ensure sustainability in the Australia–China Green Corridor for the coming decades."
Woodside Chief Operations Officer Meg O'Neill says: "This collaborative project has demonstrated that there is a cleaner way to ship Australia's largest export commodities to market using LNG as a marine fuel. Woodside will continue to work with industry partners to develop this opportunity."
BHP offered this observation on the collective effort: "This project demonstrates how greater connectivity in the maritime ecosystem allows us to resolve the big issues that impact the whole industry, such as higher safety standards and lower shipping emissions."

Morten Løvstad concludes: "DNV GL is very pleased to have been the project manager and collaborating classification society in such a productive and beneficial project. The cooperation between partners has in itself been invaluable, and the results will help to secure the sustainability of the route for the future."
Latest News
(Posted on 24/03/23)
One Sea has welcomeed Finnish start-up Groke Technologies as its new member, bringing additional expertise... Read more
(Posted on 24/03/23)
ClassNK has released "FAQs on the EU-ETS for Shipping", an overview and necessary preparation... Read more
(Posted on 20/03/23)
AXSMarine, a pioneer and market leader in the provision of advanced solutions for shipping professionals... Read more
(Posted on 20/03/23)
Shipzero is enabling transport and logistics companies to create transparency about their emissions... Read more
(Posted on 07/03/23)
The Isle of Man Ship Registry (IOMSR) has become an associate member of The International Association... Read more
(Posted on 07/03/23)
The wellbeing of crew members is becoming more important to shipping companies says leading catering... Read more
(Posted on 28/02/23)
Canada based Algoma Central Corporation has reported its results for the year ended 31 December, 2022... Read more
(Posted on 24/02/23)
Ukrainian seafarers have largely returned to international shipping thereby restoring balance in crew... Read more
(Posted on 24/02/23)
The Chairs of the Round Table of International Shipping Associations met in Athens last week to renew... Read more
(Posted on 21/02/23)
AXSMarine, a leading provider of SaaS shipping software and data for decision making in the chartering... Read more