GrainCorp to boost digital connectivity in the bush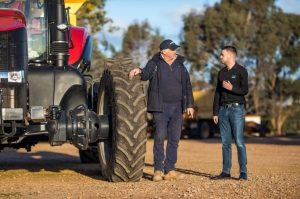 (Posted on 23/12/22)
Australian agribusiness GrainCorp is co-leading a $12 million investment round into rural connectivity business Zetifi, to help plug the gap in digital connectivity for farmers in rural Australia.
Zetifi is a Wagga Wagga-based company that seeks to eliminate coverage gaps by extending the use of existing Wi-Fi networks, with a specific focus on regional and remote areas.
The investment into Zetifi's Series A funding round is co-led by Telstra and GrainCorp's venture capital fund, GrainCorp Ventures.
Zetifi CEO Dan Winson said the team has moved quickly since the company's inception to connect remote locations with resilient hardware.
"Our experiences over the last few years confirm that agriculture and the ag services sectors are eager to adopt digital technology and automation, as long they have a connectivity solution that supports it," said Zetifi CEO & Founder, Dan Winson.
Dan credits their focus on the unique connectivity needs of agriculture and remote areas, and proximity to these customers from their regional base, for much of their success to date.
"We approached the problem from the farmers' perspective and the ability to be on-farm testing our ideas within a few minutes has accelerated the development of our products and technology," said Dan.
"It's allowed us to rapidly iterate and refine the scalable applications of our technology that we'll now be preparing for the mass-market.
"This will involve doubling our software and product teams, scaling manufacturing to support demand in Australia, and taking on the US market within the next 12-18 months."
GrainCorp CEO Robert Spurway said the technology is a critical factor to the resilience and advancement of agriculture in Australia, "Australian growers are early adopters of technological innovation on-farm, and it's a credit to their resilient nature that they continue to lead the way on digital advancements."
"GrainCorp Ventures focuses on identifying and accelerating the next generation of technologies that will keep growers ahead of the competition, and that's what we see in Zetifi," Robert said.
"Many of the people at GrainCorp also live and work alongside growers and our customers in regional communities and experience connectivity issues first-hand, so partnering with Zetifi will help to unlock significant value for the agricultural sector."
Working closely with farmers around their regional base in Wagga Wagga has enabled Zetifi to narrow their product offering and refine scalable applications of their Wi-Fi technology, which will now be prepared for mass-market launch.
Latest News
(Posted on 31/03/23)
Bunge Limited has announced that Kathleen Hyle, non-executive chairperson of the Board of Directors,... Read more
(Posted on 31/03/23)
Rio Tinto and First Quantum Minerals have entered into an agreement to form a joint venture that will... Read more
(Posted on 28/03/23)
Fertilizers Europe has called on EU co-legislators to ensure that clean fertilizer and ammonia production... Read more
(Posted on 24/03/23)
BHP and global engineering, project management and professional services firm, Hatch, have signed an... Read more
(Posted on 20/03/23)
Rio Tinto increased its spend with Australian suppliers to more than A$15.3 billion in 2022, as part... Read more
(Posted on 20/03/23)
Trafigura Group Pte Ltd., a market leader in the global commodities industry, has announced the closing... Read more
(Posted on 07/03/23)
Nexyst 360, an innovative grain transportation solution provider, has partnered with Nexxiot to digitalize... Read more
(Posted on 28/02/23)
Cargill has announced the appointments of Joanne Knight as Chief Financial Officer (CFO) and Philippa... Read more
(Posted on 24/02/23)
Trafigura, a market leader in the global commodities industry, has entered into a USD 500 million five... Read more
(Posted on 22/02/23)
British Steel has announced proposals to close its coke ovens as part of its drive to overcome global... Read more