Goeyvaerts increases MHC fleet to 20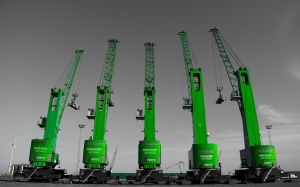 (Posted on 16/03/20)
At the end of 2019, Goeyvaerts-R bvba (Goeyvaerts) ordered two eco-efficient Konecranes Gottwald Model 7 Mobile Harbour Cranes. One will be delivered to the Port of Terneuzen, The Netherlands, in the spring and the second one will be delivered to the Port of Antwerp, Belgium, in mid-2020.
Founded in 1953, Goeyvaerts started with cranes for barge handling on inland waterways. In 2006, they expanded their offering with harbour cranes, and now operate in seven European ports: Antwerp, Ghent and Zeebrugge in Belgium, and Terneuzen, Vlissingen, Rotterdam and Amsterdam in the Netherlands. The company rents out a range of machines with mobile harbor cranes at the center and offers customers support with strong 24/7 technical service. Their success led them to investigate acquiring more equipment, and they decided to purchase two more mobile harbour cranes.
"We already operate a large fleet of Konecranes Gottwald Mobile Harbour Cranes, and we'll have a total of 20 with this new order," says Kevin Goeyvaerts, co-owner and COO of Goeyvaerts. "As rental cranes, they have to be adaptable to all kinds of applications and easy to move from one place to another. Konecranes has been able to provide us with highly mobile, flexible cranes that show impressive reliability, outstanding performance and eco-efficient drive systems."
The two new cranes will be Konecranes Gottwald Model 7 Mobile Harbour Cranes in the 4-rope variant G HMK 7608 B. They are multi-purpose cranes that can lift up to 150 tons, and they will be used by Goeyvaerts' customers to handle bulk materials and containers as well as general and project cargo. Commissioning will be completed in Terneuzen in June of this year, and in Antwerp in September. The cranes will have built-in readiness for an external power supply, so conversion to electric operation will be easy when resources allow.
"We value long-term relationships like this one that show the trust in our products and technical expertise to bring new business with established customers," says Alexandros Stogianidis, Benelux Sales Director for Konecranes Port Solutions. "Goeyvaerts' impressive fleet of meanwhile 20 Konecranes Gottwald cranes underlines our efforts to ensure our mobile harbour cranes always meet the needs of our customers."
Konecranes is a world-leading group of Lifting Businesses, serving a broad range of customers, including manufacturing and process industries, shipyards, ports and terminals. Konecranes provides productivity enhancing lifting solutions as well as services for lifting equipment of all makes. In 2019, Group sales totalled EUR 3.33 billion. Including MHE-Demag, the Group has around 18,000 employees in 50 countries.
Latest News
(Posted on 07/12/23)
In an initiative set to be transformational for ship design while protecting the oceans from pollution... Read more
(Posted on 03/12/23)
Ship design, particularly the design of bulk carriers, presents particular challenges when it comes... Read more
(Posted on 26/11/23)
VIKING Life-Saving Equipment, a global leader in maritime safety solutions, is launching an innovative... Read more
(Posted on 26/11/23)
Damen's client Gerdes Green has received a subsidy from the German Government for the investment... Read more
(Posted on 17/11/23)
A first of its kind training course for the Middle East has been held to teach mariners about the basic... Read more
(Posted on 13/11/23)
Wärtsilä ANCS, part of technology group Wärtsilä, has delivered to Seaspan, a marine... Read more
(Posted on 31/10/23)
The flag raising ceremony for three new ASD Tugs has taken place in Gdansk, Poland. In the presence... Read more
(Posted on 26/10/23)
A new immersive crane simulator that can recreate high-risk scenarios without putting drivers or other... Read more
(Posted on 23/10/23)
Vesto Ropes, a global leader in innovative steel wire-rope solutions, has announced a strategic partnership... Read more
(Posted on 23/10/23)
Bedeschi S.p.a. has been awarded a contract for the design and supply of a new longitudinal storage... Read more