GDI launches ROV in water asset assessments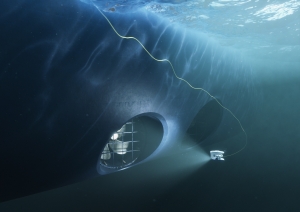 (Posted on 19/01/21)
Global Drone Inspection (GDI), the new subsidiary company of robotic inspection specialists RIMS BV, have introduced the use of ROVs (Remotely Operated Vehicles) for the inspection of in water ship assets.
Building on the experience gained by sister company, RIMS BV, who are now an established, class approved supplier of UAV inspections in the maritime industry, GDI can now offer customers fast, flexible and safe inspections of stern tube seals, bow thrusters, hull land markings, as well as in use tanks, which are often unable to be emptied for inspections.
The condition of the coatings, anti-fouling, deformations, damages, leaking seals, rudders and propellers require regular inspections, so there is a real need for fast, real-time, safe, and cost-effective inspections of floating assets and internals of tanks. GDI can now offer this service, operating the ROVs safely following the same procedures used currently for RIMS UAV inspections.
Using leading technology from Blueye Robotics, their small ROV provides high definition video recordings and images to clients. This high-tech equipment is also able to stream live video, enabling real time decision making with regards to repairs and future maintenance.
David Knukkel, CEO, Global Drone Inspection: "In water inspections present significant challenges and safety concerns, with incidents and accidents occurring during diving, in what have appeared to be straight forward inspections. These challenges are similar to that of confined spaces, so this was the natural next step for us to add this service for our customers through our new venture, GDI.
"Our policy is to only use divers when there is no other alternative and leave the humans safely onboard or ashore, while the ROV is in the water taking the risks. With our extensive experience in the flight/ sail of that beyond the visual line of sight, as most of our drones are in tanks/cargo holds, our knowledge and experience in the maritime world, means we are familiar with the ship construction underwater, and know what to expect. Our experience teamed with the use of ROVs allow us to offer our customers with the assurance that these inspections can be executed in a safe and cost-efficient way."
Global Drone Inspection performs worldwide surveys on your assets with drone technology. Providing reliable information on maintenance required on assets to the shipping, oil, and gas, infra and steel industry.
Latest News
(Posted on 26/11/23)
VIKING Life-Saving Equipment, a global leader in maritime safety solutions, is launching an innovative... Read more
(Posted on 26/11/23)
Damen's client Gerdes Green has received a subsidy from the German Government for the investment... Read more
(Posted on 17/11/23)
A first of its kind training course for the Middle East has been held to teach mariners about the basic... Read more
(Posted on 13/11/23)
Wärtsilä ANCS, part of technology group Wärtsilä, has delivered to Seaspan, a marine... Read more
(Posted on 31/10/23)
The flag raising ceremony for three new ASD Tugs has taken place in Gdansk, Poland. In the presence... Read more
(Posted on 26/10/23)
A new immersive crane simulator that can recreate high-risk scenarios without putting drivers or other... Read more
(Posted on 23/10/23)
Vesto Ropes, a global leader in innovative steel wire-rope solutions, has announced a strategic partnership... Read more
(Posted on 23/10/23)
Bedeschi S.p.a. has been awarded a contract for the design and supply of a new longitudinal storage... Read more
(Posted on 18/10/23)
Rhenus Maritime Services (RMS) is adding a new coastal vessel to its fleet in the shape of the RMS Ruhrort... Read more
(Posted on 18/10/23)
Dualog, a leading maritime software provider, has introduced a major enhancement to the Dualog Drive... Read more