GCCM opts for Siwertell technology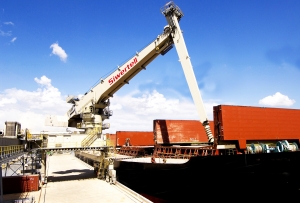 (Posted on 28/09/18)
Siwertell, part of Bruks Siwertell Group, has secured an order from US-based GCCM Holdings LCC to supply a high-capacity ship unloader for South Texas Cement's terminal in the US port of Corpus Christi.
The Siwertell ST 640-M unit will have a continuous rated cement-handling capacity of 1,500t/h and will be able to unload ships of up to 60,000 dwt.
"GCCM and South Texas Cement made the decision that their new terminal would be best served by a mechanical unloader," says Patrik Henryson, Sales Manager, Siwertell. "The factors considered by the companies during the decision process included unloading times, venting requirements, electrical demand, capital and lifetime maintenance costs, ship size, and storage capacity."
"Siwertell's demonstrated ability was a large factor in the decision to choose them for this project," says Earl Ingram, President of GCCM Holdings and South Texas Cement. "Machine size and unloading rate were extremely important. This particular machine is well within the operational range of many other machines that Siwertell currently has in service, and when combining all of the deciding factors that led to choosing a mechanical unloader, it was apparent that Siwertell was the best fit for our needs.
"We especially like the high rate of unloading combined with the versatility to handle various ship sizes."
The unloader is currently being built and will be delivered fully-assembled by heavy-lift ship to the port. Siwertell will supervise its commissioning and the unit is expected into operation in June-August 2019.
Siwertell ship unloaders and loaders are based on unique screw conveyor technology, in combination with belt conveyors and aeroslides, and can handle virtually any dry bulk cargo, such as alumina, biomass, cement, coal, fertilizers, grain and sulphur. Siwertell's product portfolio includes ship unloaders, road-mobile unloaders, port-mobile unloaders, ship loaders, conveying systems and complete bulk terminal solutions, all of which are designed to ensure environmentally-friendly and efficient cargo operations.
Latest News
(Posted on 27/09/23)
EMS-Tech Inc., a global leader in engineering and innovation within the dry bulk material handling industry... Read more
(Posted on 26/09/23)
MacGregor, part of Cargotec, has received a significant, more than EUR 25 million order for general... Read more
(Posted on 26/09/23)
HEMEXPO, Hellenic Marine Equipment Manufacturers and Exporters, a leading suppliers and exporters association... Read more
(Posted on 19/09/23)
ClassNK has conducted third-party certification for the CO2 emissions reductions of "JGreeX&trade... Read more
(Posted on 12/09/23)
Charterers can save hundreds of thousands of dollars of unnecessary demurrage costs by drilling down... Read more
(Posted on 08/09/23)
Nippon Kaiji Kyokai (ClassNK) has joined the major classification societies to amend its rules relating... Read more
(Posted on 08/09/23)
On behalf of SLPLUS Holding and based on their trust in Feyz Group's operational capabilities,... Read more
(Posted on 08/09/23)
Leading corporate wellbeing provider OneCare Solutions (OCS) has launched the OneCare Solutions Mobile... Read more
(Posted on 04/09/23)
With CCS-Ready scrubbers now being sold at pace, Wärtsilä's studies across a range of... Read more
(Posted on 04/09/23)
German Ship Repair Jamaica Limited (GSRJ), a private joint venture of German, Turkish and Jamaican investors... Read more