French shippers acclaim Dunkerque Port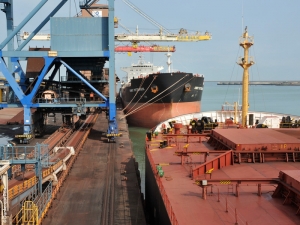 (Posted on 10/07/20)
The French shippers' trade association, representing importers and exporters from all over France, has revealed its satisfaction index of the shippers' perception of maritime transport, based on a survey entrusted to Eurogroup Consulting and conducted with around fifty decision-makers.
France's third-ranking port, Dunkirk is well known as a port handling heavy bulk cargoes for its numerous industrial installations. Classified as the 7th port of the North Europe Range which extends from Le Havre to Hamburg, it is also France's leading port for ore and coal imports; France's leading port for containerised fruit imports; France's leading port for copper imports; and France's second-ranking port for trade with Great Britain.
The Port of Dunkerque is clearly approved in the survey:
If 41% of the participants in the panel are "very satisfied" or "satisfied" with French port communities in general, the figure reaches 88% where Dunkerque is concerned.
80% of the participants believe that the level of service quality in the Dunkerque port community is improving, while 13% consider it stable.
The measures implemented in recent years such as reverse charge VAT, the H24 customs clearance services in advance of unloading, the opening of the Cargo Community System (CCS) and even "the pooling of Terminal Handling Charges (THC)" have been prime movers in the continuous improvement initiative for the handling of goods.
Similarly, during the Covid-19 pandemic, the Port of Dunkerque as a whole took every step required to ensure port operations continued as normal while preserving the health of employees present on the quays.
In this period marked by major economic uncertainty, the Port Community of Dunkerque is delighted by the results of the survey and would like to warmly thank the shippers for their renewed confidence.
The port is largest French port complex (Calais-Dunkerque); the ninth largest port on the Channel and North Sea Range and France's third-largest port, Dunkerque-Port has built a reputation in many sectors: it is the largest passenger port in Europe (Calais-Dunkerque hub); France's largest energy hub; the country's largest LNG terminal; the leading French port for containerised fruit and vegetable imports; the largest French port for ore and coal imports; France's largest rail port; the region's largest waterway port; and the third-ranking French port for grain traffic. Dunkerque-Port is also a sustainable port. It is the trading port of the new Hauts-de-France Region, the largest agricultural region of France, the leading region for the rail industry, and the leading region for the car industry.
On June 24, Dunkerque-Port was also awarded PERS certification (Port Environmental Review System) set up by the EcoPorts network and issued by the ESPO (European Sea Ports Organisation).
This environmental management certification, specific to the port sector, attests to correct compliance with current rules and standards, and rewards involvement in projects and initiatives for better environmental performance in ports.
Latest News
(Posted on 19/09/23)
HES Gdynia in Poland has started the construction works of a grain storage facility extension in port... Read more
(Posted on 12/09/23)
A joint Statement from the United States and the European Union has been released on support for Angola... Read more
(Posted on 08/09/23)
Associated British Ports has announced the successful renewal of a lease agreement with Breedon Group... Read more
(Posted on 04/09/23)
In North Sea Port, the transportation of goods to the hinterland by inland waterway continues to increase... Read more
(Posted on 28/08/23)
Both the tense economic situation in Europe, especially in Germany, and background geopolitical factors... Read more
(Posted on 21/08/23)
Abu Dhabi based AD Ports Group has announced its financial results for the second quarter of 2023, reporting... Read more
(Posted on 14/08/23)
SOHAR Port and Freezone in the Sultanate of Oman, has signed a land lease agreement with Sohar Noble... Read more
(Posted on 09/08/23)
CN has published its 2023-2024 Grain Plan, which builds on the operational improvements introduced this... Read more
(Posted on 02/08/23)
The Maritime Standard is delighted to announce the unveiling of the second session, titled 'Ports and... Read more
(Posted on 01/08/23)
Abu Dhabi based AD Ports Group, the leading global facilitator of trade, logistics, and industry, and... Read more