Flow Water's 1.3 Bn Kgs CO2 savings solution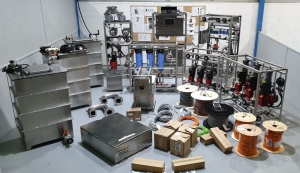 (Posted on 03/10/19)
Flow Water Technologies, developer of the Ballast Water Management System (BWMS) FlowSafe, has proven its system to be carbon neutral.
Research by an independent university has verified that the Cyprus-based company's BWMS delivers a fuel saving, in energy terms, in any configuration on board a vessel.
Established in 2013, Flow Water brings together a wealth of knowledge and engineering expertise in marine industry water treatment, assembly and manufacturing, enabling it to develop a totally unique and highly sustainable off-set carbon neutral ballast water treatment solution.
"Our sales targets are nearly met, and with overwhelming interest, I am confident that FlowSafe will be saving 1.3 billion kg of CO2 per year," said Mark Hadfield, Chief Executive Officer, Flow Water.
"That is the equivalent C02 saving of 222,000 average family cars' use per year."
FlowSafe's environmental credentials stem from Flow Waters' core company values of only using natural resources and incorporating fuel-saving technology within its BWMS.
The system will be primarily installed on tankers with Framo pumps and can be fitted at sea with no need to alter existing pipework, substantially reducing costs.
Modular installation means the components can be fitted between the engine room and steering gear room without having to move existing machinery.
There is no filtration on the ballast line and the system is explosion-proof as standard.
FlowSafe's unique installation package brings costs down, making the BWMS one of the cheapest options for tankers.
Originally developed for tankers with Framo type pumps and pump rooms, FlowSafe can also be fitted in bulkers with Gravity Discharge.
"International Maritime Organisation (IMO) G9 Basic Approval has been awarded, IMO G9 Final Approval has been submitted, and we are soon to be submitting for (US Coast Guard )USCG Type Approval," said Mr Hadfield.
"We have a healthy pre-order book and are confident that our unique solution is the best, most cost-effective, and most environmentally responsible BWMS for tankers," said Hadfield.
Flow Water Technologies is exhibiting at the Maritime Cyprus Conference 6th – 9th October, where the engineering company will be showcasing FlowSafe along with other new marine-focussed equipment.
Flow Water Technologies Ltd is a dedicated ballast water management engineering company
Latest News
(Posted on 24/03/23)
Bruks Siwertell has secured an order for a next-generation Siwertell road-mobile ship unloader, which... Read more
(Posted on 20/03/23)
Thordon Bearings is supplying its grease-free, self-lubricating ThorPlas-Blue bearing material to a... Read more
(Posted on 20/03/23)
French water treatment specialist BIO-UV Group has appointed Laurent-Emmanuel Migeon as its new Chairman... Read more
(Posted on 07/03/23)
With Wärtsilä's CII Dashboard, Anglo-Eastern is now able to make better informed decisions... Read more
(Posted on 07/03/23)
Bruks Siwertell has completed the commissioning of two large-scale Siwertell ST 790-D-type ship unloaders... Read more
(Posted on 28/02/23)
A consortium including technology group Wärtsilä has secured European Union funding to develop... Read more
(Posted on 28/02/23)
Bruks Siwertell has received an order for a next-generation Siwertell road-mobile ship unloader from... Read more
(Posted on 24/02/23)
Global Survival Technology solutions provider Survitec has introduced a new, formalised pre-inspection... Read more
(Posted on 24/02/23)
The slightest deviation in the machining, polishing, and finishing of ships' propeller blades... Read more
(Posted on 20/02/23)
Bühler expanded its business and improved profitability in an uncertain and volatile business environment... Read more