First fossil-free diesel Liebherr MHC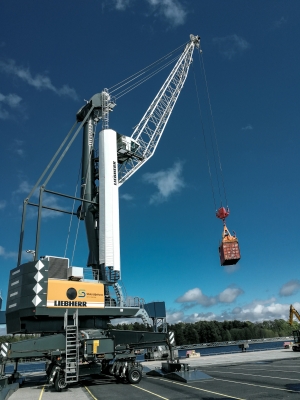 (Posted on 19/05/21)
The Port of Södertälje underlines its efforts to become a Green Port with the acquisition of the first Liebherr mobile harbour crane running on fossil-free HVO100 diesel. The new LHM 420 mobile harbour crane was recently delivered to the port and will significantly improve handling capacity in the container and project cargo sector.
Rostock (Germany), May 2021 – With its proximity to the good infrastructure of Stockholm and its metropolitan area, the Port of Södertälje has a unique location in one of the most expansive regions in Scandinavia.
The Port of Södertälje purchased a new Liebherr mobile harbour crane, type LHM 420 in 2020. The new machine was delivered in March 2021 and is already in operation at the port. With its lifting capacity of up to 124 tonnes and its 360-degree mobility, the crane offers the port flexibility in handling a wide range of goods. In addition, the crane is fully loaded with various assistance systems that make container handling even more effective and safe. Liebherr assistance systems such as the Vertical Line Finder, the Teach-In system or the Advanced Container Control make the crane a partially automated and intelligent crane. In addition, due to the proximity of the port to the city, the LHM noise insulation is installed. "The timing for us to invest in a third mobile harbour crane is perfect. It means that we can offer our customers a more efficient handling and permits continuing growth within the container segment as well as project cargoes", says Robert Tingvall, CEO at Port of Södertälje, "we have a very modern terminal, focusing on efficiency, automation, and digitisation. We are very pleased and happy about this new crane."
Besides all the useful and efficiency-enhancing features, the real special characteristic of the new machine for Sweden is its type of fuel. The machine is the first Liebherr mobile harbour crane to run on HVO diesel, which is almost emission-free. HVO Renewable Diesel is a premium fossil free diesel product made of 100% renewable raw materials, which does not release any new carbon dioxide into the atmosphere. It is produced by hydro-treatment of vegetable oils and/or organic fats. The result is a premium quality fuel with a chemical structure almost identical to regular diesel and can therefore fully replace fossil diesel. The Port of Södertälje was the first port in Sweden to convert to fossil-free fuels. Since 2016, the port uses the environmentally beneficial fuel HVO100 to run its vehicles, machinery, and cranes.
Latest News
(Posted on 07/12/23)
In an initiative set to be transformational for ship design while protecting the oceans from pollution... Read more
(Posted on 03/12/23)
Ship design, particularly the design of bulk carriers, presents particular challenges when it comes... Read more
(Posted on 26/11/23)
VIKING Life-Saving Equipment, a global leader in maritime safety solutions, is launching an innovative... Read more
(Posted on 26/11/23)
Damen's client Gerdes Green has received a subsidy from the German Government for the investment... Read more
(Posted on 17/11/23)
A first of its kind training course for the Middle East has been held to teach mariners about the basic... Read more
(Posted on 13/11/23)
Wärtsilä ANCS, part of technology group Wärtsilä, has delivered to Seaspan, a marine... Read more
(Posted on 31/10/23)
The flag raising ceremony for three new ASD Tugs has taken place in Gdansk, Poland. In the presence... Read more
(Posted on 26/10/23)
A new immersive crane simulator that can recreate high-risk scenarios without putting drivers or other... Read more
(Posted on 23/10/23)
Vesto Ropes, a global leader in innovative steel wire-rope solutions, has announced a strategic partnership... Read more
(Posted on 23/10/23)
Bedeschi S.p.a. has been awarded a contract for the design and supply of a new longitudinal storage... Read more