Fertilizer industry "deeply touched" by Beirut explosion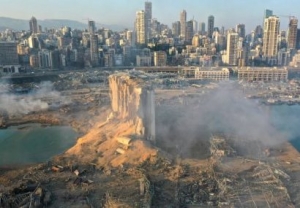 (Posted on 10/08/20)
Last week's explosions at the port of Beirut have deeply touched the world's fertilizer industry. The extremely powerful second blast resulted in at least 158 deaths, 6,000 injuries, and US$10–15 billion in property damage, and made an estimated 300,000 people homeless. The blast has been linked to about 2,750 tonnes (3,030 short tons; 2,710 long tons) of ammonium nitrate – equivalent to around 1.2 kt of TNT. Many have been angered that such a large quantity of potentially explosive material was stored inside a warehouse without any safety measures for more than six years, so close to the centre of the city.
The Lebanese government has not named the source of the ammonium nitrate, but the same amount of the chemical arrived in Beirut in November 2013 on the MV Rhosus, a Moldovan-flagged cargo ship.
Fertilizers Europe, which represents the interests of the majority of mineral fertilizer manufacturers in the European Union released the following statement:
"The European fertilizer industry is deeply touched by the tragic events in Beirut.
While little is known at this stage, media reports indicate that ammonium nitrate have been part of the explosion.
Safety is a top priority for us and our partners in the fertilizer industry. Fertilizers of all types
are safe when handled correctly. Through certification programmes and regular trainings,
Fertilizers Europe continuously strive to ensure fertilizer products are produced, transported
and stored safely and securely across Europe.
From media reports, we gather that the authorities of Lebanon continue to investigate the cause and look forward to the outcome of those efforts."
Latest News
(Posted on 07/12/23)
Rio Tinto has approved a $77 million (A$110 million) pre-feasibility study (PFS) to progress development... Read more
(Posted on 03/12/23)
Rio Tinto and Giampaolo Group have completed a transaction to form the Matalco joint venture, combining... Read more
(Posted on 03/12/23)
Khalifa Economic Zones Abu Dhabi – KEZAD Group, the largest operator of integrated and purpose... Read more
(Posted on 26/11/23)
ADM, a leader in sustainable agriculture supply chains, has announced an important expansion of its... Read more
(Posted on 17/11/23)
Trafigura, a market leader in the global commodities industry, has agreed to invest in an all-in-one... Read more
(Posted on 17/11/23)
ADM and Marathon Petroleum Corp. have celebrated the opening of their joint venture soybean processing... Read more
(Posted on 13/11/23)
Former U.S. Grains Council (USGC) Director of Global Programmes Alejandra Castillo was named the successor... Read more
(Posted on 13/11/23)
Rio Tinto has completed the acquisition of PanAmerican Silver's stake in Agua de la Falda and... Read more
(Posted on 05/11/23)
Cargill has completed an expansion and modernization project at its integrated soybean crush and refined... Read more
(Posted on 31/10/23)
BHP has approved an investment of US$4.9 billion (C$6.4 billion) for stage two of the Jansen potash... Read more