Euroports Germany opts for Liebherr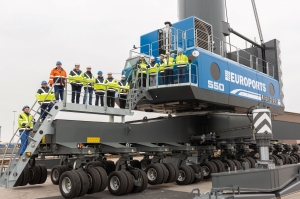 (Posted on 19/12/18)
Liebherr Maritime Cranes has delivered the first of two LHM 550 to its neighbours in the Port of Rostock, Germany. Euroports Germany intends to increase its turnover considerably with the new cranes. Liebherr succeeded in finding a tailor-made solution for Euroports' requirements.
Euroports is one of the largest port infrastructure companies in Europe. Euroports develops, operates and manages global maritime supply-chain solutions for international customers in target industry sectors. With a network of 26 port terminals in Europe and Asia, the company handles more than 60 million tonnes of bulk, breakbulk, liquid and containerized goods.
Liebherr and Euroports have a business relation for more than seven years. Liebherr mobile harbour cranes of different sizes were in operation at the Leftbank of Antwerp for Euroports Belgium. In 2018, Euroports Germany decided to opt for two LHM 550 in order to increase the turnover at the multipurpose terminal in the Port of Rostock, Germany. One of the two cranes was shipped fully assembled in mid-December the heavy load carrier "Meri" from the Liebherr plant to the 500 metres distant pier of Euroports.
Both cranes LHM 550 come in a two-rope configuration. With a maximum lifting capacity of up to 144 tonnes and a maximum outreach of 54 metres, the cranes will be the strongest mobile harbour cranes in the Port of Rostock. The machines will be used for various applications like project cargo, bulk and containers. The difficult conditions at the Euroports pier were a challenge in the configuration process. In order to comply with the prescribed ground pressures, Liebherr has found a customer-specific solution with specially adapted double supporting pads.
"We are very happy that we could now win Euroports Germany as our customer, after we already had a very good relationship with Euroports Belgium. We thank them for the trust they have placed in us and we will support our neighbours in all matters," quotes Andreas Müller, Sales Director of Liebherr Mobile Harbour Cranes. "With this investment we will further enhance the performance of Euroports Germany. The new cranes will enable us to work more universally and with a higher load capacity at all berths and at the terminal. We look forward to continuing our cooperation with the Liebherr team," says Karsten Lentz, Managing Director of Euroports Germany.
Latest News
(Posted on 27/01/23)
Biofuels are a current and accessible fuel option that can help marine customers decarbonize. Yet while... Read more
(Posted on 27/01/23)
BIO-UV Group has reported a 31% increase in revenues from its maritime business segment, contributing... Read more
(Posted on 23/01/23)
KVH Managed Firewall and Cloud Email value-added services available to commercial fleets to enhance... Read more
(Posted on 23/01/23)
NAVTOR has been announced as the latest industry leader to join the Smart Maritime Network (SMN).The... Read more
(Posted on 16/01/23)
One Sea has welcomed intelligent navigation solutions provider, Orca AI, as the newest member of the... Read more
(Posted on 10/01/23)
Elcome International, a leading provider of maritime systems and integration solutions, is providing... Read more
(Posted on 10/01/23)
Corrosion Products & Equipment (CPE), a specialist engineering firm based in Rochester, New York... Read more
(Posted on 04/01/23)
Bruks Siwertell has secured a new Siwertell ship unloader contract from cement and ready-mix concrete... Read more
(Posted on 23/12/22)
Superior Industries, Inc., a US-based manufacturer and global supplier of bulk material processing and... Read more
(Posted on 23/12/22)
Bruks Siwertell has received an order from Hallet Capital Pty Ltd for a Siwertell ship unloader. It... Read more