Elcome brings Starlink internet services to maritime industries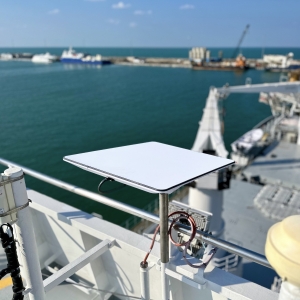 (Posted on 10/01/23)
Elcome International, a leading provider of maritime systems and integration solutions, is providing SpaceX's Starlink Internet services to its global maritime and mobility customers. From merchant vessels to oil rigs to luxury yachts, Starlink enables maritime customers to connect from the most remote waters across the world, just like they would in the office or at home.
For more than fifty years, Elcome has been providing its maritime customers with communications solutions based on both terrestrial and satellite technology. Starlink is one of the most significant advancements in communications for the maritime industry in decades.
Powered by the world's largest constellation of satellites in low Earth orbit, Starlink's high-speed, low-latency broadband Internet service for all types of maritime and offshore assets is a revolution in performance and cost. With speeds up to 100 times faster and at a fraction of the cost of traditional satellite Internet services, Elcome will equip its customers with cutting-edge technology-led solutions that leverage the unique capabilities of Starlink.
"We are so excited to bring the benefits of Starlink to our customers," said Jimmy Grewal, Elcome's Executive Director. "It's not just about fast Internet, but the opportunity for us to implement real-time remote monitoring and autonomy solutions for these customers in ways that were not previously possible. Also consider the benefit to crew members who will now be able to better stay in touch with family and friends while out at sea."
The company will also provide installation, integration, and field support to customers using Starlink. Elcome has already implemented multi-antenna Starlink arrays delivering hundreds of megabits of low-latency bandwidth on two superyachts catering to more than 100 crew and guests simultaneously.
Those interested in learning more about Starlink mobility solutions can visit Elcome's website at https://elcome.com/starlink where they can place orders for delivery to numerous countries around the world.
Orders will be fulfilled from the company's logistics hubs in Spain, Dubai, and Singapore with a variety of installation and support options available. The company also provides a comprehensive web portal for customers to manage their Starlink subscriptions, including month-to-month billing with no contractual commitments and the option to pause the service.
Latest News
(Posted on 03/12/23)
Ship design, particularly the design of bulk carriers, presents particular challenges when it comes... Read more
(Posted on 26/11/23)
VIKING Life-Saving Equipment, a global leader in maritime safety solutions, is launching an innovative... Read more
(Posted on 26/11/23)
Damen's client Gerdes Green has received a subsidy from the German Government for the investment... Read more
(Posted on 17/11/23)
A first of its kind training course for the Middle East has been held to teach mariners about the basic... Read more
(Posted on 13/11/23)
Wärtsilä ANCS, part of technology group Wärtsilä, has delivered to Seaspan, a marine... Read more
(Posted on 31/10/23)
The flag raising ceremony for three new ASD Tugs has taken place in Gdansk, Poland. In the presence... Read more
(Posted on 26/10/23)
A new immersive crane simulator that can recreate high-risk scenarios without putting drivers or other... Read more
(Posted on 23/10/23)
Vesto Ropes, a global leader in innovative steel wire-rope solutions, has announced a strategic partnership... Read more
(Posted on 23/10/23)
Bedeschi S.p.a. has been awarded a contract for the design and supply of a new longitudinal storage... Read more
(Posted on 18/10/23)
Rhenus Maritime Services (RMS) is adding a new coastal vessel to its fleet in the shape of the RMS Ruhrort... Read more