Drought impacts GrainCorp results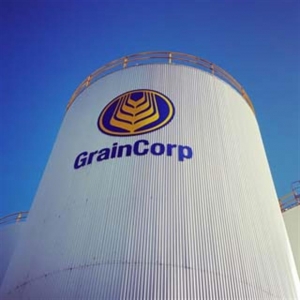 (Posted on 14/05/19)
Australia's largest grain handler has recorded $59 million half-year loss due to drought and the lowest East coast Australian grain production in 10 years.
GrainCorp has reported underlying EBITDA1 for the half year ended 31 March 2019 of $27 million (HY18: $119 million)
and an underlying net loss after tax2 of $48 million (HY18 net profit after tax: $36 million). The statutory net loss after
tax3 was $59 million (HY18 net profit after tax: $36 million).
GrainCorp is a leading international agribusiness with diversified operations that span four continents and supply customers in over 30 countries.
The company operates a unique mix of interlinked businesses – Grains, Malt and Oils – which provide a diverse range of products and services to customers across the food and beverage supply chain.
GrainCorp Chief Executive Officer Mark Palmquist said these results reflect a particularly challenging period in grains
and oilseeds, including severe drought conditions in eastern Australia and grain flows have been disrupted by grain
trade conditions.
"East coast Australian grain production was the lowest in over a decade and this has had a significant unfavourable
impact on both our Grains and Oilseeds businesses," Mr Palmquist said.
"There was continued positive performance from our Malt, Feeds and Bulk Liquid Terminals operations. Our Foods
business also continued to achieve ongoing efficiency improvements.
"GrainCorp recorded encouraging improvements in the Group's two key safety measures, although we are determined
to pursue further improvement."
As a result of the half-year financial performance, the Board has determined that GrainCorp will not pay an interim
dividend this period.
The company continues to progress its Portfolio Review initiatives, including the demerger of its Malt business, the
combination of Grains and Oils, simplification and cost reduction initiatives, and the sale of the Australian Bulk Liquid
Terminals to ANZ Terminals. Active engagement with parties who have expressed an interest in part or parts of GrainCorp's portfolio continues.
As one of Australia's leading grain exporters, GrainCorp owns Eastern Australia's largest integrated grain storage and transport network. Diversified operations span four continents and the global food supply chain. Traceable supply of quality grain and value-added food processing capabilities mean GrainCorp's products and expertise are sought internationally by leading food manufacturers.
Latest News
(Posted on 19/09/23)
BHP contributed $60 billion (AUD) in economic value to the Australian economy in the 2023 financial... Read more
(Posted on 19/09/23)
BHP contributed $60 billion (AUD) in economic value to the Australian economy in the 2023 financial... Read more
(Posted on 19/09/23)
Trafigura Group Pte Ltd. has announced an evolution of its executive team to further strengthen leadership... Read more
(Posted on 12/09/23)
The Food and Agricultural Organisation of the United Nations (FAO) forecast for global cereal production... Read more
(Posted on 08/09/23)
Rio Tinto has appointed Jérôme Pécresse to lead its Aluminium business, succeeding... Read more
(Posted on 04/09/23)
The Environmental Protection Agency (EPA) and the Army Corps in the USA have announced the final definition... Read more
(Posted on 28/08/23)
Despite the many and varied categories of cargo damage faced by shipowners transporting grain cargoes... Read more
(Posted on 28/08/23)
Rio Tinto and First Quantum Minerals have completed a transaction to form a joint venture that will... Read more
(Posted on 21/08/23)
Aluminum Association president & CEO Charles Johnson released the following statement on the one... Read more
(Posted on 14/08/23)
The Agricultural Industries Confederation (AIC) has chaired a key meeting with the UK Government as... Read more