DMCs exciting future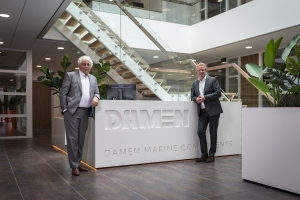 (Posted on 18/11/19)
In a festive atmosphere Damen Marine Components (DMC) has celebrated the official opening of its new headquarters in Hardinxveld-Giessendam, the Netherlands. The occasion also marked the introduction of Mark Visser as the company's new managing director as current managing director Steef Staal prepares for his retirement after 15 years at DMC and a total of 46 years working within the Damen Shipyards Group.
Damen Shipyards Group operates 36 shipbuilding and repair yards, employing 12,000 people worldwide and has delivered more than 6,500 vessels in more than 100 countries and delivers around 175 vessels annually to customers worldwide.
The new DMC headquarters were opened by Beer Damen, son of Damen Shipyards Group chairman Kommer Damen, with more than 350 invited guests including clients, suppliers, business relations and colleagues attending.
This opening speech was the opportune moment to respectfully thank DMC's outgoing managing director Steef Staal, who will retire in February 2020. After 46 years working for Damen, it is an understatement to say that Mr Staal has contributed a great deal to the success of the Damen Shipyards Group over the years. Talking at the event, he said: "Wherever I go, I always head for the harbour to see if I can see any Damen vessels. I can spot them a mile off – and that's a skill I'll keep with me forever."
With the merger with Van der Velden Marine Systems in 2018, the acquisition of WK Hydraulics earlier this year and the establishment of Damen Winch Technology , DMC has undergone substantial expansion in recent years. The new headquarters serve as the workplace for a team of 100 personnel, and consist of new offices in addition to new production facilities.
Complementing DMC's production facilities in Poland and China, the new premises at Hardinxveld-Giessendam are equipped to carry out steel work and hydraulic assemblies. It also has a professional paint shop and a large warehouse for storage of all spares.
The day also saw the official introduction of Mark Visser, who began his tenure as DMC's new managing director on 1 October, after moving from Damen's High Speed Craft product group. "DMC is not only a component supplier – we are a high-tech company with high-quality products and systems. Look at the developments we have made with the automation of steering systems, remote monitoring, and the first autonomous sailing projects. We have all this expertise in-house," he said, clearly enthusiastic about the prospect of taking the helm at DMC. "And with modern vessels becoming more and more complex, components are becoming more important than the hull in which they are installed."
Latest News
(Posted on 07/12/23)
In an initiative set to be transformational for ship design while protecting the oceans from pollution... Read more
(Posted on 03/12/23)
Ship design, particularly the design of bulk carriers, presents particular challenges when it comes... Read more
(Posted on 26/11/23)
VIKING Life-Saving Equipment, a global leader in maritime safety solutions, is launching an innovative... Read more
(Posted on 26/11/23)
Damen's client Gerdes Green has received a subsidy from the German Government for the investment... Read more
(Posted on 17/11/23)
A first of its kind training course for the Middle East has been held to teach mariners about the basic... Read more
(Posted on 13/11/23)
Wärtsilä ANCS, part of technology group Wärtsilä, has delivered to Seaspan, a marine... Read more
(Posted on 31/10/23)
The flag raising ceremony for three new ASD Tugs has taken place in Gdansk, Poland. In the presence... Read more
(Posted on 26/10/23)
A new immersive crane simulator that can recreate high-risk scenarios without putting drivers or other... Read more
(Posted on 23/10/23)
Vesto Ropes, a global leader in innovative steel wire-rope solutions, has announced a strategic partnership... Read more
(Posted on 23/10/23)
Bedeschi S.p.a. has been awarded a contract for the design and supply of a new longitudinal storage... Read more