Desmi develops new BWMS covering bulker solutions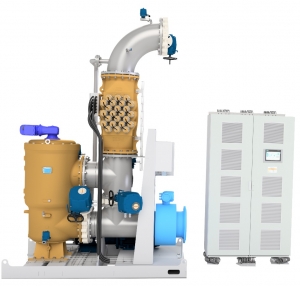 (Posted on 04/05/21)
In order to meet market and customer demand, DESMI has developed two new Ballast Water Management Systems (BWMS) covering bulker solutions and ships sailing in IMO waters only or primarily: CompactClean Bulker and CompactClean OptIMO. These new systems join the DESMI portfolio of BWMS alongside the well-known CompactClean BWMS.
"Not all ships are engaged in global trade but rather in regional or domestic trade, and as such a significant part of the world fleet will never, or only rarely, enter US waters. Such vessels can benefit of a BWMS solution that is optimized to IMO requirements and not US Coast Guard requirements, and this is exactly what we have developed with our new CompactClean OptIMO BWMS. This BWMS has lower power consumption and fewer UV lamps and thus provides both CAPEX and OPEX savings, as well as an even smaller footprint than the market leading footprint of CompactClean BWMS", says Rasmus Folsø, CEO DESMI Ocean Guard. He continues: "Moreover, the OptIMO BWMS meets the USCG requirements and can be operated in a US compliance mode, which however involves a smaller maximum flowrate, but does make it suitable for operation in US waters when needed".
With the CompactClean OptIMO BWMS DESMI provide the customers with an opportunity to select a BWMS which is carefully optimized to the needs of the vessel and its operation. If max flowrate treatment is required globally, including US waters, then the market leading CompactClean BWMS, the only UV system available that does not employ special flow reduction when operated in US compliance mode, is the right choice. On the other side, if there is no need to operate the BWMS at max flowrate in US compliance mode, either because US waters are never entered or because the vessel's operation profile allows the discharge of ballast water at a reduced flowrate when in US waters, then OptIMO is the right choice as it provides both CAPEX and OPEX savings.
The CompactClean Bulker – is a BWMS optimized for the operation of Bulk Carriers or other vessel types, where discharge of ballast water is performed at increased flowrate. With the Bulker solution we can tailor-make a BWMS for our customers which will allow one flowrate during ballast, and another and higher flowrate during de-ballast. As the filter is only applied during ballast operation it can be downsized to match the lower flow during ballast, and therefore CompactClean Bulker grants the customer a CAPEX reduction, as well as OPEX reduction in case the filter internals need replacement during the life of the BWMS.
DESMI Ocean Guard A/S develops and markets ballast water management systems for the removal of living organisms from ships' ballast water. DESMI Ocean Guard is wholly owned by DESMI A/S, and its head office is located in Nørresundby, Denmark. DESMI has more than 185 years of history, and today the DESMI Group has production, distribution centres and sales companies around the world, and a product portfolio that includes pumps, oil spill response solutions, envirocare solutions, pumping solutions for defence applications, energy saving systems, automation, and ballast water management systems, all supported by a global aftersales service setup.
Latest News
(Posted on 26/11/23)
VIKING Life-Saving Equipment, a global leader in maritime safety solutions, is launching an innovative... Read more
(Posted on 26/11/23)
Damen's client Gerdes Green has received a subsidy from the German Government for the investment... Read more
(Posted on 17/11/23)
A first of its kind training course for the Middle East has been held to teach mariners about the basic... Read more
(Posted on 13/11/23)
Wärtsilä ANCS, part of technology group Wärtsilä, has delivered to Seaspan, a marine... Read more
(Posted on 31/10/23)
The flag raising ceremony for three new ASD Tugs has taken place in Gdansk, Poland. In the presence... Read more
(Posted on 26/10/23)
A new immersive crane simulator that can recreate high-risk scenarios without putting drivers or other... Read more
(Posted on 23/10/23)
Vesto Ropes, a global leader in innovative steel wire-rope solutions, has announced a strategic partnership... Read more
(Posted on 23/10/23)
Bedeschi S.p.a. has been awarded a contract for the design and supply of a new longitudinal storage... Read more
(Posted on 18/10/23)
Rhenus Maritime Services (RMS) is adding a new coastal vessel to its fleet in the shape of the RMS Ruhrort... Read more
(Posted on 18/10/23)
Dualog, a leading maritime software provider, has introduced a major enhancement to the Dualog Drive... Read more