Damen launches crane barge in Yichang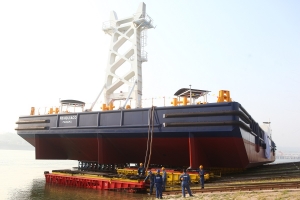 (Posted on 06/05/21)
Damen Yichang Shipyard has launched a 75 x 32 metre Crane Barge into the water. The event was seasonally timed to ensure the correct water depth needed to perform the successful launch of the barge.
Damen is building the Crane Barge 7532 for a Panamanian client. Now that the barge is in the water, the yard will make the final preparations for her forthcoming journey to Huisman's Chinese yard in Fujian Province.
The crane will first be tested on land before being lifted onto the barge for installation and final testing of the crane together with the Crane Barge systems. With this, the barge will have a lifting capability of 625 tons at 25 metres.
After completion in China the Crane Barge will be transported to Panama on a semi-submersible vessel, where she will be expected to arrive at the end of this year.
The project experienced some challenges when production at the Yichang was affected by the coronavirus pandemic. Damen sales manager Olivier van Papenrecht says everyone worked very hard to keep things on track.
"I'm very proud to see the barge successfully launched. That this has happened now, so close to the original schedule, despite the impact the pandemic had on production, is a real achievement. This represents the commitment shown to the project by the client, by the production team in Yichang and by the project team in the Netherlands."
Damen Shipyards Group has been in operation for over ninety years and offers maritime solutions worldwide, through design, construction, conversion and repair of ships and ship components.
Latest News
(Posted on 05/06/23)
Digitalisation can only go so far in protecting safe navigation in busy shipping lanes with human involvement... Read more
(Posted on 05/06/23)
Inmarsat Maritime, a Viasat business, and a world leader in global, mobile satellite communications,... Read more
(Posted on 02/06/23)
Belgian logistics and transportation company Zuidnatie NV ordered their first Generation 6 Konecranes... Read more
(Posted on 31/05/23)
Norwegian government agency Statsbygg has awarded Framo the development contract to supply pump systems... Read more
(Posted on 30/05/23)
Technology group Wärtsilä has signed a contract to deliver a Wärtsilä 20&nbsp... Read more
(Posted on 23/05/23)
Bruks Siwertell has secured an order from Senegal Minergy Port SA (SMP) for a high-capacity Siwertell... Read more
(Posted on 17/05/23)
To support the sizeable lumber industry in New Zealand, Liebherr Maritime Cranes has worked with ISO... Read more
(Posted on 14/05/23)
The Desmi Group's general assembly has approved the year end result for 2022 – record-high... Read more
(Posted on 06/05/23)
EMS-Tech, a leading provider of custom designed bulk material handling systems, has opened a new office... Read more
(Posted on 02/05/23)
Technology group Wärtsilä and DNV's industry cloud platform Veracity have entered a... Read more