Crusher parts partnership created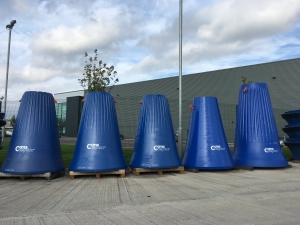 (Posted on 31/07/19)
Superior Industries Inc., a U.S. based manufacturer and global supplier of bulk material processing and handling systems, says it has entered into a strategic partnership with Europe's largest manufacturer of aftermarket crusher parts. For 40-plus years, CMS Cepcor has manufactured premium crusher spares for more than three dozen active and classic brands throughout Europe. The parts manufacturer recently expanded its global footprint when it launched CMS Cepcor Americas.
From its US headquarters in Pekin, Illinois, CMS Cepcor Americas will stock, sell and service aftermarket parts throughout North and South America. In addition to the greater market, they will work closely with Superior to supply crushing equipment spares to Superior's growing group of crushing dealers and customers.
"We have assembled a talented team of industry veterans who understand what it means to serve customers with high-quality products backed by timely support," says Doug Parsons, the president of CMS Cepcor Americas. "Personally, my relationship with Superior goes back two decades and our trust and confidence in each other runs deep. We're excited to fill a gap in the market where customers are not being supported to the level they require."
CMS Cepcor Limited is Europe's leading aftermarket manufacturer and supplier of crusher spare parts to the mining, aggregate production and associated crushing industries globally to over 120 countries. The company's global headquarters and state-of-the-art manufacturing facility are located in Coalville, United Kingdom. CMS Cepcor Americas LLC was launched earlier this year and will focus on servicing all of North and South America from its crusher parts facility in Pekin, IL.
From Rock Face to Load Out®, Superior Industries engineers and manufactures groundbreaking bulk material processing and handling equipment and cutting-edge components. From its headquarters in Morris, Minnesota, USA, the manufacturer supplies bulk crushing, screening, washing and conveying systems for industries like aggregates, mining, bulk terminals, agriculture, power and biomass. In addition to its home plant, Superior operates from five additional U.S. facilities, three in Brazil and two more in Canada.
Latest News
(Posted on 24/03/23)
Bruks Siwertell has secured an order for a next-generation Siwertell road-mobile ship unloader, which... Read more
(Posted on 20/03/23)
Thordon Bearings is supplying its grease-free, self-lubricating ThorPlas-Blue bearing material to a... Read more
(Posted on 20/03/23)
French water treatment specialist BIO-UV Group has appointed Laurent-Emmanuel Migeon as its new Chairman... Read more
(Posted on 07/03/23)
With Wärtsilä's CII Dashboard, Anglo-Eastern is now able to make better informed decisions... Read more
(Posted on 07/03/23)
Bruks Siwertell has completed the commissioning of two large-scale Siwertell ST 790-D-type ship unloaders... Read more
(Posted on 28/02/23)
A consortium including technology group Wärtsilä has secured European Union funding to develop... Read more
(Posted on 28/02/23)
Bruks Siwertell has received an order for a next-generation Siwertell road-mobile ship unloader from... Read more
(Posted on 24/02/23)
Global Survival Technology solutions provider Survitec has introduced a new, formalised pre-inspection... Read more
(Posted on 24/02/23)
The slightest deviation in the machining, polishing, and finishing of ships' propeller blades... Read more
(Posted on 20/02/23)
Bühler expanded its business and improved profitability in an uncertain and volatile business environment... Read more