Cleveland Cascades passes the test of time with new Vancouver order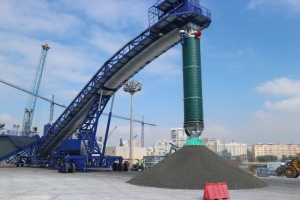 (Posted on 02/10/23)
Cleveland Cascades Ltd. have secured an order for a complete spare spout supply destined for Vancouver, British Columbia, Canada.
The original system was supplied circa. 2002 and still remains in operation to this day. The order is testament that the company's product is designed and manufactured to a high standard and paired with regular inspections and maintenance works to withstand the test of time, providing excellent results and a high return on investment.
The spare spout supply will enable port operations to continue uninterrupted whilst affording flexibility to the maintenance team to undertake thorough inspections of the equipment, and if necessary, to replace any of the critical system components that display signs of excessive wear.
When it comes to tackling dust emissions and material degradation, the company believes that no another system that can offer the same results for dust elimination whilst also reducing material degradation and segregation. This technology has established the company as a leading global force in ship and silo loading chutes.
Cleveland Cascades Ltd is a private company. The company was originally a division of Cleveland Potash Ltd, who diversified in to manufacturing loading chutes when they needed a high capacity loading chute which effectively controlled dust pollution. The innovative solution they conceived was the Cascade concept, which utilised a series of inclined cones to control the velocity and flow of their Potash.
In 2004 Ian Barnard, one of the original inventors of the system, set up Cleveland Cascade Ltd to develop and market the product worldwide. He was later joined by his son Matthew Barnard, previously the Commercial Director at the company.
The company's site in the North East of England covers area of 4,700 sq m (50,000 sq ft) and includes manufacturing & assembly workshops, secure outside storage space, offices for engineering and support functions. The factory has undergone a complete refurbishment in order to become a bespoke manufacturing unit dedicated to the design & production of a full range of bulk loading chutes.
Latest News
(Posted on 07/12/23)
In an initiative set to be transformational for ship design while protecting the oceans from pollution... Read more
(Posted on 03/12/23)
Ship design, particularly the design of bulk carriers, presents particular challenges when it comes... Read more
(Posted on 26/11/23)
VIKING Life-Saving Equipment, a global leader in maritime safety solutions, is launching an innovative... Read more
(Posted on 26/11/23)
Damen's client Gerdes Green has received a subsidy from the German Government for the investment... Read more
(Posted on 17/11/23)
A first of its kind training course for the Middle East has been held to teach mariners about the basic... Read more
(Posted on 13/11/23)
Wärtsilä ANCS, part of technology group Wärtsilä, has delivered to Seaspan, a marine... Read more
(Posted on 31/10/23)
The flag raising ceremony for three new ASD Tugs has taken place in Gdansk, Poland. In the presence... Read more
(Posted on 26/10/23)
A new immersive crane simulator that can recreate high-risk scenarios without putting drivers or other... Read more
(Posted on 23/10/23)
Vesto Ropes, a global leader in innovative steel wire-rope solutions, has announced a strategic partnership... Read more
(Posted on 23/10/23)
Bedeschi S.p.a. has been awarded a contract for the design and supply of a new longitudinal storage... Read more