Cimbria launches its most advanced optical sorter ever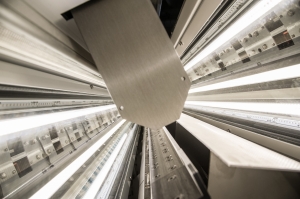 (Posted on 05/05/22)
Cimbria is presenting a new series of machines using a combined multispectral vision system, allowing users to identify the correct order of elements during production with the best definition. Cimbria is a world leader in industrial processing, handling, and storage of cereals and seeds, as well as animal feed, food, and other bulk products.
For over half a century, companies of all sizes operating in the field of cereals, seeds, nuts, coffee, recycling and industrial products have used Cimbria's sorters to complete their quality improvement and product enhancement processes. Cimbria developed SEA.IQ in its Italian business unit, which produces a range of high-quality sorters known worldwide as SEA.
Many of these companies first came to Cimbria, expressed their production challenges and requested advanced production solutions, which became the inspiration for a series of optical sorters with dedicated software capable of managing high levels of data.
Engineered by Cimbria, SEA.IQ is the product of long-standing technical experience, high industry standards, in-depth research and meticulous developmental processes. To get the best out of an online quality control machine like SEA.IQ, an acute focus on experience, attention to detail and continuous customer assistance are essential and must be guaranteed.
Customers need ever-increasing final product quality, which requires perfectly sorted raw materials in the right colour, nature and shape. SEA.IQ is the most technologically advanced solution because it includes the most recent and complex vision systems and combines them, perfects them, and provides the best possible results in terms of purity and reject concentration, says Michela Pelliconi, business area manager at Cimbria, continuing:
SEA.IQ is the result of decades worth of experience in the sector. This experience has allowed us to develop very sophisticated management software, made intuitive and easy to use by the operator.
Cimbria's full range of optical sorters—well-known as SEA—builds on decades of unique development, feature refinement and obtaining insights into customer needs.
Optical sorters have been a part of Cimbria's wide product range for many years and are developed on the foundation of extensive expertise. SEA.IQ is top of Cimbria's technological range, with precision and reliability as the main benefits for customers.
The optical sorter consists of exceptional multispectral camera technology. This technology works with visible material, ultra-violet and the near-infrared spectrum according to sorting requirements and subsequent configurations. It can identify any material or colour difference based on the exact colour and shape. In this way, it selects visible impurities and foreign elements and excludes bacteria, toxins, fungi and other contaminants with absolute precision and always with the maximum possible waste concentration.
- SEA.IQ is the ultimate inspection system, with advanced camera and sensor technology combined with tailor-made software. Our excellent service organisation offers support at every stage of the project, during installation and after-sales. We guarantee a solution and a truly tailored service to meet the needs of every customer, says Pelliconi.
The new SEA.IQ optical sorter is designed and manufactured at the Cimbria Centre of Excellence in Imola, Italy. The launch takes place at the IPACK-IMA fair in Milan at the beginning of May.
Latest News
(Posted on 26/11/23)
VIKING Life-Saving Equipment, a global leader in maritime safety solutions, is launching an innovative... Read more
(Posted on 26/11/23)
Damen's client Gerdes Green has received a subsidy from the German Government for the investment... Read more
(Posted on 17/11/23)
A first of its kind training course for the Middle East has been held to teach mariners about the basic... Read more
(Posted on 13/11/23)
Wärtsilä ANCS, part of technology group Wärtsilä, has delivered to Seaspan, a marine... Read more
(Posted on 31/10/23)
The flag raising ceremony for three new ASD Tugs has taken place in Gdansk, Poland. In the presence... Read more
(Posted on 26/10/23)
A new immersive crane simulator that can recreate high-risk scenarios without putting drivers or other... Read more
(Posted on 23/10/23)
Vesto Ropes, a global leader in innovative steel wire-rope solutions, has announced a strategic partnership... Read more
(Posted on 23/10/23)
Bedeschi S.p.a. has been awarded a contract for the design and supply of a new longitudinal storage... Read more
(Posted on 18/10/23)
Rhenus Maritime Services (RMS) is adding a new coastal vessel to its fleet in the shape of the RMS Ruhrort... Read more
(Posted on 18/10/23)
Dualog, a leading maritime software provider, has introduced a major enhancement to the Dualog Drive... Read more