Challenging Q1 re-emphasises need to lift Rio Tinto's ops performance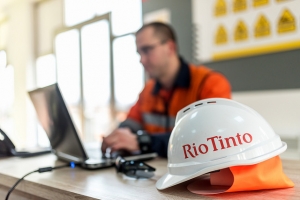 (Posted on 20/04/22)
Rio Tinto has released its first quarter production results. Chief Executive Jakob Stausholm, said: "We made notable progress during the quarter with the commencement of underground mining at Oyu Tolgoi following a comprehensive agreement reached with the Government of Mongolia, completed the acquisition of the Rincon lithium project in Argentina, and signed a framework agreement at the Simandou iron ore project in Guinea. These projects are all aligned with our strategy of growing in materials essential to a decarbonising world.
"Production in the first quarter was challenging as expected, re-emphasising a need to lift our operational performance. We launched seven more deployments of the Rio Tinto Safe Production System, building on the achievements from the previous rollouts. As we ramp up Gudai-Darri, our iron ore business will have greater production capacity and be better placed to produce additional tonnes of Pilbara Blend in the second half.
"We released an independent report on our workplace culture and are implementing all 26 recommendations to make positive and lasting changes. We also announced an agreement with the Yinhawangka Aboriginal Corporation on a new co-designed management plan to ensure the protection of significant social and cultural heritage values.
"These actions will ensure we continue to deliver attractive returns to shareholders, as we invest in sustaining and growing our portfolio, be a partner and employer of choice and progress our ambition to achieve net-zero carbon emissions."
Latest News
(Posted on 08/02/23)
Tata Steel has established a Centre for Innovation in Mining and Mineral Beneficiation at the Indian... Read more
(Posted on 06/02/23)
The National Grain and Feed Association (NGFA) in the USA has outlined recommended actions for Congress... Read more
(Posted on 27/01/23)
Cargill has announced that it has completed the acquisition of Owensboro Grain Company, a fifth-generation... Read more
(Posted on 23/01/23)
BHP Xplor, an accelerator programme introduced by BHP in August 2022, has announced its first cohort... Read more
(Posted on 16/01/23)
Trafigura Group Ptd Ltd., a market leader in the global commodities industry, has made a public carbon... Read more
(Posted on 10/01/23)
Jace Hefner has joined the U.S. Grains Council (USGC) in its Washington, D.C., headquarters as the new... Read more
(Posted on 10/01/23)
Cargill has announced that Jamie Miller will step down as Chief Financial Officer to accept an opportunity... Read more
(Posted on 10/01/23)
Adbri Limited has announced that it has extended its cementitious materials supply arrangement with... Read more
(Posted on 04/01/23)
Khalifa Economic Zones Abu Dhabi – KEZAD Group, the integrated trade, logistics, and industrial... Read more
(Posted on 23/12/22)
Australian agribusiness GrainCorp is co-leading a $12 million investment round into rural connectivity... Read more