Chains and Anchors agreement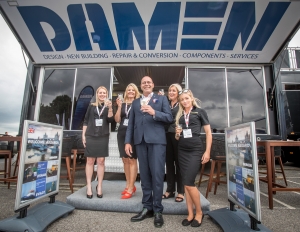 (Posted on 17/06/19)
On 12th of June, Damen Anchor & Chain Factory (AKF) signed a joint partnership agreement with Fendercare. The agreement came about from a mutual understanding that both parties' clients were seeking wider availability of products.
Under the agreement, the partnership will build up complementary stock of anchors, chains and chain fittings and conduct installation of anchors and chains. Working together in this way will ensure the partnership's clients of product availability from numerous, well-positioned locations around the world.
Speaking on the occasion of the signing ceremony, AKF managing director Walter Treffers explained the thinking behind the agreement, saying, "This partnership represents a win-win for all stakeholders. It increases the product portfolio of Fendercare with AKF's proven product range and gives AKF products an even wider geographical distribution than before. Of course, the real benefit here is for our client, as we intended. They will now have improved availability of our products, equalling shorter lead times, which, ultimately means more uptime and improved earning potential. We are very much looking forward to working together with Fendercare in the future."
Mr Treffers signed the agreement at this year's Seawork exhibition in Southampton with Fendercare's general manager Lara Griffin.
Damen Shipyards Group operates 36 shipbuilding and repair yards, employing 12,000 people worldwide. Damen has delivered more than 6,500 vessels in more than 100 countries and delivers around 175 vessels annually to customers worldwide.
Latest News
(Posted on 24/03/23)
Bruks Siwertell has secured an order for a next-generation Siwertell road-mobile ship unloader, which... Read more
(Posted on 20/03/23)
Thordon Bearings is supplying its grease-free, self-lubricating ThorPlas-Blue bearing material to a... Read more
(Posted on 20/03/23)
French water treatment specialist BIO-UV Group has appointed Laurent-Emmanuel Migeon as its new Chairman... Read more
(Posted on 07/03/23)
With Wärtsilä's CII Dashboard, Anglo-Eastern is now able to make better informed decisions... Read more
(Posted on 07/03/23)
Bruks Siwertell has completed the commissioning of two large-scale Siwertell ST 790-D-type ship unloaders... Read more
(Posted on 28/02/23)
A consortium including technology group Wärtsilä has secured European Union funding to develop... Read more
(Posted on 28/02/23)
Bruks Siwertell has received an order for a next-generation Siwertell road-mobile ship unloader from... Read more
(Posted on 24/02/23)
Global Survival Technology solutions provider Survitec has introduced a new, formalised pre-inspection... Read more
(Posted on 24/02/23)
The slightest deviation in the machining, polishing, and finishing of ships' propeller blades... Read more
(Posted on 20/02/23)
Bühler expanded its business and improved profitability in an uncertain and volatile business environment... Read more