Cement group warns of storm clouds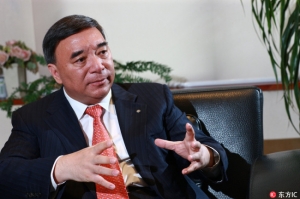 (Posted on 26/04/18)
Mr Zhi Ping Song, President of the World Cement Association, has called on the cement industry to take greater initiative in proactively tackling problems it is likely to face in the years ahead, especially in the all-important area of climate change.
"There are some storm clouds gathering on the horizon for the cement industry, and we must work together now to repair the roof while the sun is still shining," said Mr Song. "This will require all stakeholders, regardless of size, group or country, to cooperate internationally and share best practice."
He further emphasised that it is particularly important to engage stakeholders in emerging as well as developed markets, as this is where much of the world's new capacity is coming on stream and construction is taking place.
In the last six months, the World Cement Association has welcomed 16 cement producers as new members. Collectively they represent a total capacity of nearly one billion tonnes, and come from 13 different countries: Algeria, Bangladesh, China, Colombia, France, Israel, Jordan, Morocco, Pakistan, Saudi Arabia, Sierra Leone, Thailand and Turkey.
Because a large proportion of the World Cement Association's diverse and international membership hails from emerging markets, the association hopes that by more effectively involving these organisations in global industry responses to key issues it will be able to have a meaningful impact through early action.
Mr Song, who is also Chairman of China National Building Material Company, praised in particular the World Cement Association's unique founding principle of equal representation. All World Cement Association Corporate Members carry the same voting rights in the organisation, allowing them to engage with each other on an equal basis to collaboratively deal with the challenges faced by the industry worldwide.
Latest News
(Posted on 05/06/23)
Rio Tinto has successfully completed the full transition of its heavy machinery from fossil diesel to... Read more
(Posted on 02/06/23)
Rio Tinto plans to invest US$395 million1 in a seawater desalination plant in the Pilbara, Western Australia... Read more
(Posted on 31/05/23)
A new collaboration between BHP and Microsoft has used artificial intelligence and machine learning... Read more
(Posted on 23/05/23)
Bunge and Nutrien Ag Solutions, the retail division of Nutrien Ltd. have announced a strategic alliance... Read more
(Posted on 17/05/23)
Vale has concluded the shipment of its first cargo of iron ore briquettes to be tested in a blast furnace... Read more
(Posted on 12/05/23)
The UK Government's decision to abandon plans to review all EU-derived legislation by the end of 2023... Read more
(Posted on 08/05/23)
The USA's National Grain and Feed Association (NGFA) and 42 other agricultural groups have expressed... Read more
(Posted on 02/05/23)
BHP has announced the completion of the OZ Minerals acquisition and implementation of the scheme of... Read more
(Posted on 02/05/23)
ADM, global leader in nutrition, and one of the leading flour millers in the UK, has for the first time... Read more
(Posted on 28/04/23)
Speaking on behalf of the American Soybean Association and his fellow soy growers, ASA President Daryl... Read more