CCS certifies Alfa Laval PureBallast 3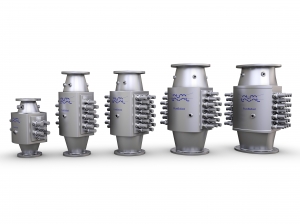 (Posted on 02/03/20)
Alfa Laval PureBallast 3 has become one of the first non-Chinese ballast water treatment solutions to be type approved by the China Classification Society. With the Chinese type approval in hand, PureBallast 3 systems can now be installed on vessels that carry the Chinese flag.
The type approval certificate for PureBallast 3 was issued by the China Classification Society on 17 January 2020. For Chinese customers, it provides access to one of the global market's most respected and successful ballast water treatment solutions.
"Alfa Laval has long had a strong position in the Chinese newbuilding market and has grown considerably in the retrofit market during the last 12 months," says Peter Sahlén, Head of Alfa Laval PureBallast. "Now that PureBallast 3 has Chinese type approval, we can support all shipowners who build or sail under the Chinese flag. There are many who see the benefits of a strong international partner in ballast water treatment – one with proven UV technology that can handle large ballast water flows, but also one with global service and support."
For Alfa Laval, obtaining Chinese type approval is an important step that reflects the company's lasting commitment to the Chinese market.
"Alfa Laval has had dedicated ballast water treatment resources in China since the signing of the IMO Ballast Water Management Convention," Sahlén says. "In fact, the majority of our dedicated service engineers are stationed in China, where they are well positioned to support Chinese and foreign customers with the commissioning and service of PureBallast systems. From shipbuilding to the delivery of goods worldwide, China is key to the marine industry. We look forward to deepening our cooperation with Chinese customers and will be proud to see PureBallast 3 systems sail under the Chinese flag."
Ballast water treatment is all about protecting the environment. But acquiring a ballast water treatment system is all about customer needs: being able to sail smoothly, with timely deliveries and fulfilled obligations towards customers.
Alfa Laval PureBallast 3 is the third generation of the leading ballast water treatment technology – and the first solution to be revised G8 ready. Type approved by the U.S. Coast Guard as well as by IMO, it offers unmatched performance in the most challenging waters. Surrounding it are total solutions in ballast water treatment, built on Alfa Laval's deep knowledge, extensive resources, strong partnerships and well-developed service offering.
Latest News
(Posted on 03/12/23)
Ship design, particularly the design of bulk carriers, presents particular challenges when it comes... Read more
(Posted on 26/11/23)
VIKING Life-Saving Equipment, a global leader in maritime safety solutions, is launching an innovative... Read more
(Posted on 26/11/23)
Damen's client Gerdes Green has received a subsidy from the German Government for the investment... Read more
(Posted on 17/11/23)
A first of its kind training course for the Middle East has been held to teach mariners about the basic... Read more
(Posted on 13/11/23)
Wärtsilä ANCS, part of technology group Wärtsilä, has delivered to Seaspan, a marine... Read more
(Posted on 31/10/23)
The flag raising ceremony for three new ASD Tugs has taken place in Gdansk, Poland. In the presence... Read more
(Posted on 26/10/23)
A new immersive crane simulator that can recreate high-risk scenarios without putting drivers or other... Read more
(Posted on 23/10/23)
Vesto Ropes, a global leader in innovative steel wire-rope solutions, has announced a strategic partnership... Read more
(Posted on 23/10/23)
Bedeschi S.p.a. has been awarded a contract for the design and supply of a new longitudinal storage... Read more
(Posted on 18/10/23)
Rhenus Maritime Services (RMS) is adding a new coastal vessel to its fleet in the shape of the RMS Ruhrort... Read more