Cargotec refines vision for sustainability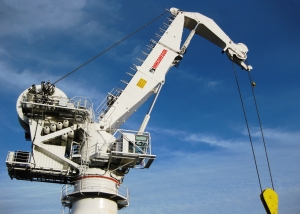 (Posted on 29/04/21)
Cargotec's Board of Directors has confirmed the company's refined strategy and vision. Breakthrough objectives are sustainability and profitable growth.
With its business areas Kalmar, MacGregor and Hiab, Cargotec's vision is to become the global leader in sustainable cargo flow.
"Our previous vision – becoming the global leader in intelligent cargo handling – highlighted the importance of digitalisation. With our present operating model, digitalisation already constitutes an integrated part of our processes, solutions and offering. Intelligent solutions enable sustainable and profitable growth. The importance of sustainability has significantly increased in our customers' operations and we lift it into our vision," says Cargotec's CEO Mika Vehviläinen.
In concrete terms, Cargotec aims to reduce the CO2 emissions of its value chain by one million tons by 2024.
Strategy progress is measured by financial reporting, leadership index, eco portfolio share of sales and, in the future, CO2 emission reduction and the net promoter score as well.
"Our key business driver is to reduce the carbon footprint of the logistics industry. We want to do our part to limit global temperature rise to 1.5°C. By realising our strategy, we acknowledge our responsibility to innovate and offer low-carbon business solutions that enable a sustainable path for the logistics industry."
"We see sustainability as an inspiring business opportunity. Last year, our eco portfolio solutions already constituted almost a quarter of our total sales. This clearly shows that, in terms of safety, emission efficiency and productivity, our customers see the benefits they can achieve with these solutions."
Cargotec's business areas Kalmar, Hiab and MacGregor are pioneers in their fields. Through their unique position in ports, at sea and on roads, they optimise global cargo flows and create sustainable customer value. Cargotec has signed the United Nations Global Compact Business Ambition for 1.5°C. The company's sales in 2020 totalled approximately EUR 3.3 billion and it employs around 11,500 people.
Latest News
(Posted on 26/11/23)
VIKING Life-Saving Equipment, a global leader in maritime safety solutions, is launching an innovative... Read more
(Posted on 26/11/23)
Damen's client Gerdes Green has received a subsidy from the German Government for the investment... Read more
(Posted on 17/11/23)
A first of its kind training course for the Middle East has been held to teach mariners about the basic... Read more
(Posted on 13/11/23)
Wärtsilä ANCS, part of technology group Wärtsilä, has delivered to Seaspan, a marine... Read more
(Posted on 31/10/23)
The flag raising ceremony for three new ASD Tugs has taken place in Gdansk, Poland. In the presence... Read more
(Posted on 26/10/23)
A new immersive crane simulator that can recreate high-risk scenarios without putting drivers or other... Read more
(Posted on 23/10/23)
Vesto Ropes, a global leader in innovative steel wire-rope solutions, has announced a strategic partnership... Read more
(Posted on 23/10/23)
Bedeschi S.p.a. has been awarded a contract for the design and supply of a new longitudinal storage... Read more
(Posted on 18/10/23)
Rhenus Maritime Services (RMS) is adding a new coastal vessel to its fleet in the shape of the RMS Ruhrort... Read more
(Posted on 18/10/23)
Dualog, a leading maritime software provider, has introduced a major enhancement to the Dualog Drive... Read more