Cargill progress on sustainability goals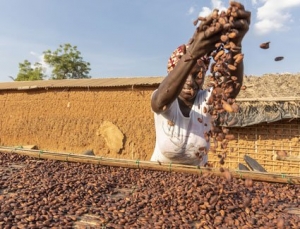 (Posted on 08/06/20)
Cargill recently outlined progress against sustainability goals in critical supply chains including aqua nutrition, cocoa and chocolate, palm, soy, ocean transportation and beef. With a focus on advancing progress on land use, climate change, water, farmer prosperity and human rights, the company is working across every supply chain to drive sustainable production, transportation and operations.
"The call for radical transparency is increasing. More than ever, our customers and consumers want to understand the story behind the products they buy," said Jill Kolling, Vice President of Global Sustainability, Cargill. "By investing and partnering on solutions to enhance transparency in the food system, we can deliver meaningful and sustainable impact on the ground and increase consumer confidence."
Over the past year, Cargill adopted global sustainability efforts to more quickly advance progress. The company established a science-based commitment to reduce supply chain emissions by 30% by 2030, a bold climate commitment to reinforce support of the Paris Climate Commitment. Cargill established its Forest Protection Advisory Panel to bring diverse insights and support continuous improvement on the ground. Additionally, a BeefUp Sustainability Advisory Panel will offer critical review of the strategy and resources underpinning the North America beef supply chain sustainability initiative.
Cargill supports the sustainable growth of the global aquaculture industry by enabling better seafood and helping farmers succeed. With a focus on delivering animal health and welfare through feed and nutrition, Cargill reports in accordance with Global Reporting Initiative (GRI) Standards, which provides a level of transparency to build trust.
Latest News
(Posted on 26/11/23)
ADM, a leader in sustainable agriculture supply chains, has announced an important expansion of its... Read more
(Posted on 17/11/23)
Trafigura, a market leader in the global commodities industry, has agreed to invest in an all-in-one... Read more
(Posted on 17/11/23)
ADM and Marathon Petroleum Corp. have celebrated the opening of their joint venture soybean processing... Read more
(Posted on 13/11/23)
Former U.S. Grains Council (USGC) Director of Global Programmes Alejandra Castillo was named the successor... Read more
(Posted on 13/11/23)
Rio Tinto has completed the acquisition of PanAmerican Silver's stake in Agua de la Falda and... Read more
(Posted on 05/11/23)
Cargill has completed an expansion and modernization project at its integrated soybean crush and refined... Read more
(Posted on 31/10/23)
BHP has approved an investment of US$4.9 billion (C$6.4 billion) for stage two of the Jansen potash... Read more
(Posted on 31/10/23)
Rio Tinto and cable solution provider Prysmian are partnering to build a more sustainable North American... Read more
(Posted on 26/10/23)
The American Soybean Association has applauded the U.S. Department of Agriculture's efforts to... Read more
(Posted on 26/10/23)
Rio Tinto has appointed James "Joc" O'Rourke as a non-executive director with effect... Read more