Call for EU co-legislators to secure clean ammonia production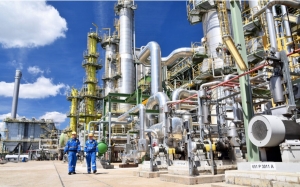 (Posted on 28/03/23)
Fertilizers Europe has called on EU co-legislators to ensure that clean fertilizer and ammonia production continue to be produced in Europe.
Fertilizers Europe represents the interests of the majority of mineral fertilizer manufacturers in the European Union. In a statement they said, " To keep this key element of food security, the legislators should include low carbon hydrogen in the RFNBOs industry target. Fertilizers Europe represent 80% of mineral fertilizers in Europe and around 90% of ammonia production.
Hydrogen is used to produce ammonia: the main building block of fertilizers. As a result, the Fertilizer Industry is both one of the main users and producers of hydrogen in Europe (40%), around 3 million tonnes per year. Ammonia, which has a higher hydrogen density than hydrogen itself, will be a critical component of any future hydrogen economy, as it will have a role to play not only in fertilizers production but also as shipping fuel or energy storage solutions. Ammonia is one of the first industrial sectors that will need to do a significant shift towards renewable hydrogen. Policy-makers should ensure that this change takes place without risking continuous EU production of this key intermediate.
If no ammonia is produced in Europe, we risk substituting one dependency with another having serious repercussions on food security and strategic autonomy. As one of the sectors most impacted by the new target on RFNBOs use set on industry by the Renewable Energy Directive, we believe that such a target needs to be achievable. A number of conditions must be met to ensure that this target is achieved, foremost of which is access to affordable renewable electricity which unfortunately diverges widely in different Member States, where ammonia is currently produced. Forgetting these differences would be harmful for the European industry. This is why low-carbon hydrogen's potential for decarbonizing European industry should be fully accounted for, either by including it in RED III target itself or by excluding low-carbon hydrogen from the denominator. This will send a positive signal for the development and production of clean hydrogen while at the same time keeping a binding target for RFNBOs.
We remain ready to engage with the Commission, Parliament and Member States to further discuss this proposal and its benefits for the European food security, clean transportation and the European Union as a whole."
Latest News
(Posted on 26/11/23)
ADM, a leader in sustainable agriculture supply chains, has announced an important expansion of its... Read more
(Posted on 17/11/23)
Trafigura, a market leader in the global commodities industry, has agreed to invest in an all-in-one... Read more
(Posted on 17/11/23)
ADM and Marathon Petroleum Corp. have celebrated the opening of their joint venture soybean processing... Read more
(Posted on 13/11/23)
Former U.S. Grains Council (USGC) Director of Global Programmes Alejandra Castillo was named the successor... Read more
(Posted on 13/11/23)
Rio Tinto has completed the acquisition of PanAmerican Silver's stake in Agua de la Falda and... Read more
(Posted on 05/11/23)
Cargill has completed an expansion and modernization project at its integrated soybean crush and refined... Read more
(Posted on 31/10/23)
BHP has approved an investment of US$4.9 billion (C$6.4 billion) for stage two of the Jansen potash... Read more
(Posted on 31/10/23)
Rio Tinto and cable solution provider Prysmian are partnering to build a more sustainable North American... Read more
(Posted on 26/10/23)
The American Soybean Association has applauded the U.S. Department of Agriculture's efforts to... Read more
(Posted on 26/10/23)
Rio Tinto has appointed James "Joc" O'Rourke as a non-executive director with effect... Read more