Bulk volumes surge in Hamburg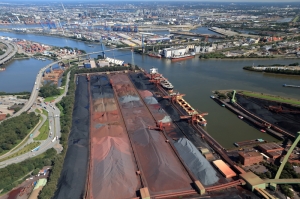 (Posted on 18/11/21)
In the first nine months of the year, at 95.8 million tons the Port of Hamburg achieved a 2.9 percent increase in seaborne cargo throughput. Bulk cargo throughput advanced especially strongly, being 6.1 percent ahead at 29.7 million tons. Totalling 66.1 million tons, in the first three quarters general cargo throughput was a modest 1.6 percent ahead. The upward trend was also maintained on container handling. A total of 6.5 million TEU - 20-ft standard containers - were hoisted across the quay walls of Hamburg's container terminals, a 2.4 percent gain.
Growth in bulk cargo throughput is primarily attributable to the strong trend in the grab cargo segment. Ore and coal imports led to growth there of 17.8 percent to 16.3 million tons. Up 0.9 percent at 8.7 million tons, liquid cargo throughput was stable. In the suction cargo segment, at 4.7 million tons, or
-15.1 percent lower, throughput of grain and oleaginous fruits was below the previous year's strong total.
Despite this positive throughput trend, the Port of Hamburg was not yet able to fully overhaul last year's downturn caused by Corona. Axel Mattern and Ingo Egloff, HHM - Port of Hamburg Marketing's Joint CEOs, are therefore especially pleased that pre- and post-voyage railborne container transport set a new record at 2.1 million TEU. "That represents an 8.3 percent advance," stressed Egloff. "At 709,000 TEU, the Port of Hamburg posted the highest quarterly total in its history for containers transported," added Mattern. The Port of Hamburg accordingly further strengthened its position as Europe's largest rail port.
Mattern points out that among the Port of Hamburg's main trade lanes, with the exception of Australia/Pacific (-0.1 percent), the other container trade lanes of the Americas (+6.7 percent), Asia (+1.4 percent), Africa (+4.5 percent) and Europe (+1.6 percent) all recorded positive throughput growth.
The first stage of implementing fairway adjustment produced higher draft and improved opportunities for ships to pass on the Elbe for liner services calling at Hamburg.
Worldwide transport chains will remain volatile for the rest of the year. "Delayed ship's arrivals plus the related delivery postponements also hit the ports. The problems of supply chains meanwhile out of synch will continue to be apparent at the land/sea transport interface. Despite providing 24/7 service, for the terminals a fraught situation will persist on vessel clearance," said Mattern. "Partly since the beginning of the year, large sections of industry have suffered bottlenecks on deliveries. Despite full order books, this can hamper production," added Egloff.
The ifo Institut puts German industry's forfeited added value on account of delivery bottlenecks at almost 40 million euros. Having previously put fourth-quarter growth at 1.3 percent, the institute now reckons with just 0.5 percent. Despite the current situation, the Port of Hamburg's marketing organization reckons on continuation of the slight upward trend in seaborne cargo throughput during the fourth quarter. For the Port of Hamburg, total throughput of around 130 million tons and 8.7 million TEU for 2021 remains attainable.
Latest News
(Posted on 20/03/23)
Abu Dhabi based AD Ports Group, the leading facilitator of global trade, logistics, and industry, has... Read more
(Posted on 20/03/23)
Grain handling at the Port of Immingham is increasing thanks to the new opportunities presented by investment... Read more
(Posted on 07/03/23)
Marcor Stevedoring has signed a contract adding Liebherr's largest and most powerful mobile harbour... Read more
(Posted on 07/03/23)
AD Ports Group, an Abu Dhabi based leading facilitator of global trade, logistics, and industry, and... Read more
(Posted on 02/03/23)
LOGISTEC Stevedoring Inc., a subsidiary of LOGISTEC Corporation, a leading North American marine and... Read more
(Posted on 28/02/23)
End-of-year figures for total traffic in the Spanish Port of Bilbao stand at 32.7 million tonnes, up... Read more
(Posted on 24/02/23)
The Port of Sept-Îles and LOGISTEC Arrimage Inc. have announced that they have reached the impressive... Read more
(Posted on 24/02/23)
The war in Ukraine led to unprecedented changes in goods flows last year. At 467.4 million tonnes, total... Read more
(Posted on 24/02/23)
In Q3 2022, two port operating companies in Guyana – Muneshwers Ltd. and John Fernandes Ltd. &... Read more
(Posted on 20/02/23)
The Port of Trois-Rivières closed 2022 with a record number of goods handled. A total of 4.3... Read more