Boortmalt world's largest malt producer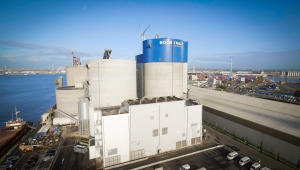 (Posted on 03/12/19)
Boortmalt is now the largest malt producer in the world after its acquisition of Cargill Malt. The merged group will have an annual production of three million tonnes of malt, enough for a hundred billion beers.
A fourth malting tower was built last year in the 6th Harbour Dock in the port of Antwerp where Boormalt has its headquarters. With the takeover the company has doubled in size and is now the world's N° 1. The group has expanded from 11 to 27 malteries, with plants in five continents. Boortmalt was previously present mainly in Europe, but Cargill also has malteries in North and South America, Argentina and Australia.
The aim of the merger is to be able to supply brewers all over the world locally. Boortmalt mainly serves the beer and whisky industries.
"This merger will enable us to further achieve our ambition of being the best maltster in the world," says Boortmalt CEO Yvan Schaepman. "We will do this from our home port of Antwerp where we also have our head office, innovation centre and main maltery."
The Antwerp site is also making great strides towards becoming more eco-friendly. Thanks to the collaboration with a Dutch start-up the water consumption of the production process has been halved, to 600,000 cubic metres per year. In the early part of 2020 the company will also install a carport with solar panels with enough capacity to charge 60 cars.
Latest News
(Posted on 24/03/23)
BHP and global engineering, project management and professional services firm, Hatch, have signed an... Read more
(Posted on 20/03/23)
Rio Tinto increased its spend with Australian suppliers to more than A$15.3 billion in 2022, as part... Read more
(Posted on 20/03/23)
Trafigura Group Pte Ltd., a market leader in the global commodities industry, has announced the closing... Read more
(Posted on 07/03/23)
Nexyst 360, an innovative grain transportation solution provider, has partnered with Nexxiot to digitalize... Read more
(Posted on 28/02/23)
Cargill has announced the appointments of Joanne Knight as Chief Financial Officer (CFO) and Philippa... Read more
(Posted on 24/02/23)
Trafigura, a market leader in the global commodities industry, has entered into a USD 500 million five... Read more
(Posted on 22/02/23)
British Steel has announced proposals to close its coke ovens as part of its drive to overcome global... Read more
(Posted on 20/02/23)
Global miner Rio Tinto and Japanese trader and business conglomerate Marubeni Corporation have agreed... Read more
(Posted on 20/02/23)
Trafigura, a market leader in the global commodities industry, and Ecobat, the global leader in battery... Read more
(Posted on 13/02/23)
Hydrogen is at the core of the green steel transition. Ensuring access to this scarce resource &ndash... Read more